Japan Sendai Mission - 日本仙台伝道部
Teruya Jidai(74-77)照屋時代
Official RM Site-同窓生サイト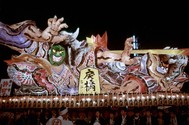 2018 Nov Fukuoka rpt
Teruya Jidai (1974-1977) 2018 Fukuoka Reunion Report
照屋時代(1974-1977)2018年福岡リユニオンリポート
35 Teruya Jidai RMs and guests gathered in Fukuoka for reunion activities held Saturday and Sunday 10 and 11 November 2018. Fukuoka was selected as the location for a number of reasons, two of which are: 1) Many RMs live nearby on Kyushu, Shikoku, Okinawa or at the southern tip of Honshu and 2) Tokyo Temple is closed for renovation.
On a beautiful fall 秋晴れ (Akibare) Saturday afternoon, a Fukuoka Temple session was available as the first event for attendees-many RMs and guests participated, and some were able to also utilize temple housing there for their accomodations the night before. The main taikai was held at the Fukuoka Ward meetinghouse, which is about ten minutes (slightly downhill) stroll from the temple. The reunion took place from 4:30 to 8:30PM (details below). On Sunday a Sacrament Meeting at the Fukuoka Ward was also available for those who could attend. It was a fantastic weekend to meet, greet and get re-aquainted with our beloved companions and others with whom we served, now 41-44 years prior under the gentle, trusting and loving guidance of President and Sister Teurya. It doesn't get much better than that! Link to photo gallery 写真ガラリのリンク.

The reunion itself started out with a fantastic buffet dinner organized by Kawakami (Tsuchida) Fukiko. After a lot of catching-up and visiting, chairs were organized in a circle for each RM to give a 近況 (kinkyou-current update). Some folks 'talk story''d about mission days, but a common theme was sharing how many grandchildren you had. Oono was the apparent 'winner' with 15! Thanks to Iwanaga, Ichikawa and Ooyama Kyodai-tachi for organizing it all once again!

近況 'current status' session photo courtesy Todd Ogaard
Thank You to All 2018 Fukuoka Reunion Attendees: (Photo Gallery link 写真ガラリのリンク):
Last
Married
First
長老 姉妹

Ken/State

(island other than Honshu)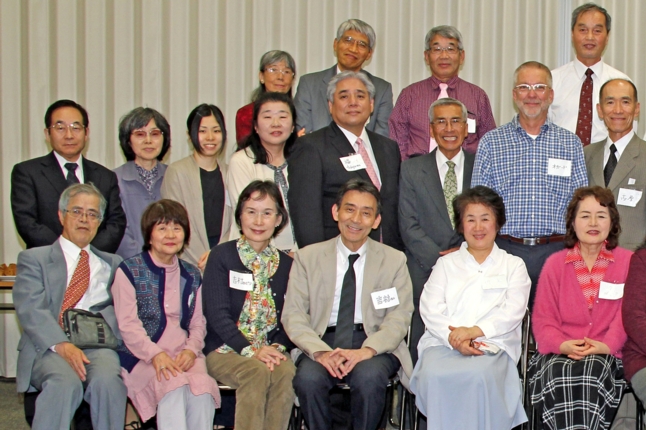 Back: Sis. Senba, Senba, Oono, Takashima
Standing: Iwanaga, Ito (Fujisaki), Sis Fujisaki (daughter), Inagaki (Taneda), Fukuyama, Okamoto, Ogaard, Furuhara
Sitting: Bro. Asakura, Yamaguchi (Asakura), Sis. Yoshimura, Yoshimura, Kikuchi (Tsuchida), Kido
group photo courtesy: Iwanaga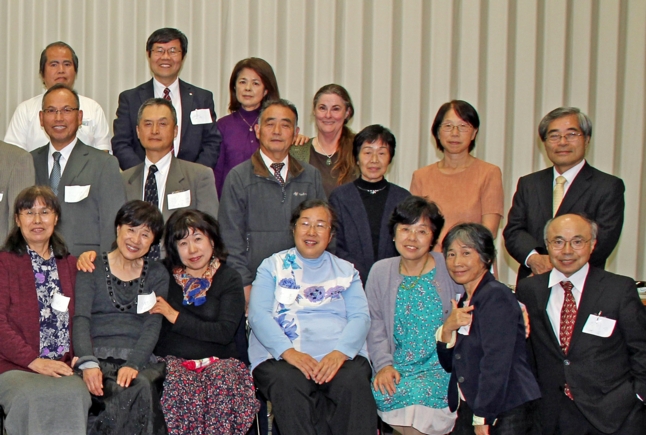 Back: Ashimine, Yamazaki, Sis. Yamazaki, Dalton (McQuarrie)
Middle, Standing: Ueno, Fukunaga, Ishibashi (Shiki), Ooishi (Takeda), Suzuki (Yuasa), Ooyama
Sitting: Fukuda (Kondo), Mizunoya, Kimura, Shiki, Tashiro (Sasaki), Tamashiro (Kawajo), Ichikawa
group photo courtesy: Iwanaga