Japan Sendai Mission - 日本仙台伝道部
Teruya Jidai - 照屋時代
Official RM Site - 同窓生サイト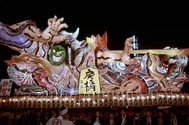 Japan Travel Tips
Admin Note: These tips are my opinions, based on more than 30 trips back to Japan since mission days. Suggestions are always welcome using a 'Contact Us' entry.
Click hyperlinks below for your item of interest:
---
General Japan Travel Tips
Buy a good travel guide. I recommend Lonely Planet Japan, available at bn.com for about $25. Lonely Planet also has some information on their hardback and e-book guides. This guide is a top choice for the independent traveler, from the hitchhiker staying at youth hostels to the more well-heeled adventurer. Some good ideas can also be found on the web at Japan National Tourist Organization (JNTO) .

When to Go
Spring and Fall are the best times to go, but avoid one of Japan's biggest holidays, Golden Week--27 April to 6 May. In Tohoku, mid-June through the end of July is generally the rainy season, and summer is stiflingly hot and muggy.

How to get around
Trains are the way to travel anywhere in Japan, and are one of the few bargains for foreign travelers, but only if you use the Japan Rail Pass. Please refer to the Train Tips section where rail travel is discussed in detail. Buses can take you pretty much wherever trains can't.

Hitchhiking In the days before Rail Passes were available, my buddy Ken White and I hitchhiked from Hokkaidou to Kyuushuu, catching a few train rides in-between. Two important tips: First, you need a detailed highway map. They're available in paperback book form (Japanese), including detailed on-ramp locations. Second, you need to hold up destination signs (preferably written in Japanese). We found it much easier to be picked up with Japanese, rather than ro-maji (roman lettered)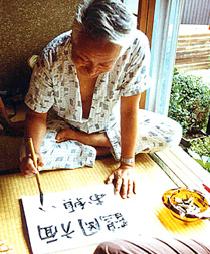 signs, perhaps it made the driver feel at ease to think they wouldn't have to speak exclusively English to communicate. Even though we thought we could write kanji pretty well, we usually asked a nearby Nihonjin (such as at a youth hostel) to write out the sign for us. There are even books on this subject by Will Ferguson. Currently in print is Hitchhiking Rides with Buddah (April 2006), available on Amazon.com for $12. (April 2015 price).
<< Tsuruoka houmen--onegai" ((going the direction of) Tsuruoka--please--please)
Rental Cars are available at train stations but are expensive. Unless you're traveling to remote areas that aren't serviced by trains, it would be hard for me to recommend them, especially with the issues of left-hand driving and navigation.
This is especially important if you're planning much travel within Japan. You'll need to pack lightly enough to easily carry your own stuff everywhere. Remember you can do laundry at most Youth Hostels, business hotels and onsens or have it done at larger hotels fairly inexpensively.

Where to stay
If you arrive in a town without having booked a place to stay, the local eki (train station) usually has a ryokou an'nai sho (travel information office) that can help. English is not the primary language used in these offices. Directions, maps, and even phone calls checking availability are typical services provided there. If you arrive late at night, "walk-up" traffic to accommodations near an eki is always a possibility. Some other tips on where to stay:
Youth Hostels If you are on a budget and are adventurous, consider Youth Hostels. You don't need to be a "Youth" to stay in a Youth Hostel, but you must be a member of your own country's hostel organization before you can stay at a hostel abroad. Visit American Youth Hostels for information-a one year adult membership is $25. Japan Youth Hostels has a great English website with good explanations, maps, rules and reservation info. Typical fees for these dormitory-type accommodations are $30/night--(~3,000yen). Evening and morning meals are also available for around $13 and $8 respectively (1,300 and 800 yen, respectively).
Hotels and Business Hotels Check the travel guide mentioned above for specific hotels they recommend. Western-style hotels in big cities can be reserved online and through travel agents abroad, but they are pricey. On the other hand, Japanese business hotels are have smaller (some would say cramped) rooms, but are adequate and reasonably priced, even in big cities, in my opinion. I recommend a business hotel chain called Toyoko Inn, which has relatively new, clean and inexpensive locations located near train stations throughout Japan. Their English-language website allows reservations three months in advance. (Six months in advance if you are a "member," but membership signup can only be done in-person in Japan.) Route Inn and Dormy Inn are two other similar chains, both of which often include large Japanese-style common baths (daiyoku-jo, similar to onsen or sentou bathing) in addition to showerbath prefab units in each room. Internet reservations are becoming more prevalent (you can even try hotels.com), some sites are in Japanese only, except JTB's Japanican, which is geared towards foreigners, and Rakuten Travel, which has a limited English section. Keep in mind the possibility of "walk up" traffic to hotels in smaller cities, especially in non-peak times--avoid golden week and local festivals. On some of my visits back to Japan, I've had no trouble getting rooms this way. Most hotels take credit cards.
Ryokan (Japanese Inns) To sample the best of Japanese accommodations, you might want to consider at least one night in a Ryokan. Ryokan don't always welcome foreign guests (Japanese language ability is a huge plus) and are usually more expensive than hotels. They also range from elegant to shoddy--consult the travel guide suggested above and JNTO for more information. Ryokan usually include Japanese-style dinner and breakfast in the price, as well as traditional ofuro (bath). The ryokou an'nai sho (travel information office) in most every eki (train station) is also a good source for information and reservations.
Onsen (Hot Springs) Any one of the above types of lodging may be located in an Onsen area. Onsen typically refers to a naturally occurring hot spring/mineral spa area, and the lodging would feature traditional Japanese bathing. There are thousands of onsen in volcanic-zone laden Japan. Some onsen areas are overbuilt and garish, but many are charming and preserve the traditions of thatched-roof buildings and rotenburo (outdoor bath), best located in a mountain setting. As you can imagine, onsen accommodations are usually at the middle and high end of the lodging price range, but are, in my opinion, the ultimate in lodging in Japan. I recommend Japan's Hidden Hot Springs (1995, by Robert Neff), if you're serious about a traditional onsen experience. It's available for Amazon.com's kindle ($10). Though it's been 20 or more years since this book was published in pre-Internet times, I've personally visited many of the top-rated onsen located Northern Japan in Neff's book and have not been disappointed. Some of the onsen now have websites or are member of Nihon Hitou (discussed below), but many can only be reserved by telephone, and only in Japanese.
If you're really into onsen you can also consider joining Nihon Hitou wo Mamamoru Kai (Japan Association of Secluded Hot Spring Inns). Once you've registered as a member, their site offers online reservations to an exclusive assortment of small, traditional, sometimes rustic onsen inns, but my experience is that if you choose the English display on their website, only a very limited number of onsen locations appear (as with Rakuten Travel discussed above). If you can read Japanese and choose Japanese display, the number of available locations available for reservation will be much more numerous. I've used the site for reservations a number of times but usually also call to confirm both the resvervation and shutlle pickup details.
Japanese Residence You may staying at the home of a companion or acquaintence. You probably remember the basic drill from countless visits to homes while serving on your mission, so if you are traveling with others without such experience consider giving a little training on genkans, small cramped spaces, o-furo technique etc before you arrive. Taking an omiyage (small gift/souvenir) is customary and would be a nice touch. If your host is a church member, a Tabernacle Choir CD might be a good gift-it's lightweight, small and not totally 'gee-gaw'-ish as many omiyage are. If not a church member, I sometimes buy a Japanese omiyage at the train station of the city from which I just traveled - if I'm boarding a train in Sendai to travel to my host's city, for example, I might buy some gyuutan (beef toungue) jerky, all wrapped up and gift-size, before boarding the train.
Currency Exchange, ATMs and Suica Cards
Currency Exchange Each arrival airport has Japanese bank exchange windows that I recommend for currency exchange. They are conveniently located just outside of customs inspection doors, right as you exit into the public waiting areas. There is usually more than one bank there, so there is some competition, and I've found the rates to be fair (and way better than say, the US airport non-bank exchange booths-don't use those!). The same types of bank windows are found in Japan's airport departure wings for easy conversion back to your home currency.
ATMs If you have a US bank ATM (debit) card, you may use it at any Japan Post Office ATM to obtain yen currency. I recommend the Japan Post ATMs because they have an English display mode and since they are part of the quasi-governmental Japan Post Savings system, I believe the conversion rates to be better than commercial banks. Convenience Stores (7-11, for example) also have English-language ATMs, but the fees will be slightly higher, but not unreasonable. Commercial bank ATMs in Japan, in my experience, don't always have English display choices, so I usually avoid them.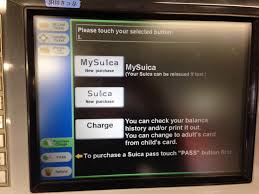 Suica Cards Once you have yen in hand in Japan, you might want to consider obtaining a Suica Card. Suica is a prepaid integrated circuit (IC) card usable with a 'tap' on an IC reader for train fare and as electronic money for general purchases. It allows travelers to bypass transportation ticket vending machines and otherwise alleviates fumbling with currency and coins when making purchases, including at vending machines, convenience stores and from in-train food/beverage carts. To use at automated subway or train turnstiles, holders tap the Suica Card at entrance then tap again at exit; the automated turnstile exit will open and the proper fare is deducted from the card.
Black-colored Suica vending machines (English is available) located in JREast stations are used to obtain the card, and a 500 yen deposit is required. To add money/value to a Suica card (we say 'recharge' they say 'charge'), you insert yen bills or coins (no credit cards) using any green-colored Suica machine (more numerous than black) or black-colored Suica machines. You can also simply add money to the card at any convenience store that takes Suica. I suggest buying a personal 'mySuica' card; it requires entering some personal information, such as birthdate, but allows re-issue if lost, as well as refund of the 500 yen deposit. Obtain a refund (haraimodoshi) of unused value at the end of your stay at any JREast reserve ticket window-I used the one at JR-Narita Airport. Here are a few webpages that explain Suica: Wiki, JREast, YouTube, How-to
---
Eligibility Japan's rail system is one of the world's finest. "JR" refers to Japan Railways Group, the former Japan National Railways (JNR) nationwide government-owned railways--now six separate regional privatized companies. Travelers on "temporary visitor" entry status to Japan should definitely consider purchasing a Japan Rail Pass, one of the best bargains for foreign visitors. This means visitors entering Japan on visas for stays longer than 90 days (e.g., employees, missionaries, students, and English teachers) are, unfortunately, not eligible. For more details see JR Rail Pass home page.

Japan Rail Pass Value A JR Rail Pass allows you virtually unlimited reserved seat travel on all of the JR Group rail and bus lines, including all Shinkansen (Bullet Trains) except only "Nozomi," and "Mizuho" trains, the fastest Shinkansen running west from Tokyo to Osaka and Kyushu, respectively. JR Rail Passes are available in 7, 14, or 21 day varieties. To demonstrate the pass' value (Jan 2018 prices):
Conventional Tickets

JR Rail Pass

ONE round-trip reserved seat 'Hikari' Shinkansen ticket (Tokyo-Kyoto) purchased individually = 27,200 yen

versus

SEVEN (consecutive) days of reserved seats (using the Japan Rail Pass), anywhere, including Shinkansen (except Nozomi or Mizuho) = 29,110 yen

or

ONE round-trip reserved seat 'Hayabusa' Shinkansen ticket (Tokyo-Hachinohe) purchased individually = 32,580 yen
Regional JR Passes If your travel will be restricted to only one region, you may want to consider buying a regional JR pass. For example, travel on JR in the Tokyo area and northeast to Touhoku all falls within the JR East region. JR East Passes are 5-day flexible day passes (use within 14 days after issuance), available for 20,000 yen, and unlike the all-Japan passes, don't require a pre-purchase voucher before you depart and may be purchased after arrival in Japan. (If you do pre-purchase in your home country, the cost is only 19,000 yen). For more details see the JR East Pass webpage.

What about a Green Car Pass? You should also consider choosing the "green car" (comfort class) pass over the ordinary JR Rail Pass. For a relatively small additional cost, you then can travel in the green car available on all but local trains. The 7-day green car pass is 38,880 yen, compared to 29,110 yen for the ordinary pass described above. Green cars are generally more quiet and have wider seats. Around Tokyo, many commuter trains have green cars as well. Note: green car passes are not an option for the JR East-only pass.
---
You Must Buy a Japan JR Rail Pass Exchange Order before entering Japan [as noted above, if your travel will be limited to Tokyo and Tohoku, JR East Pass may be your best bet, and (only) they may be purchased after arriving in Japan; all other types of passes require a purchase-before-you-go voucher/exchange order]. Obtain an exchange order (example below) from any Japan Travel Bureau Office, such as San Francisco's--telephone: 415-986-4764. They'll fax or email you an application. You fax or send back the application, and they send you the Exchange Order. There is also JTB's online Exchange Order service.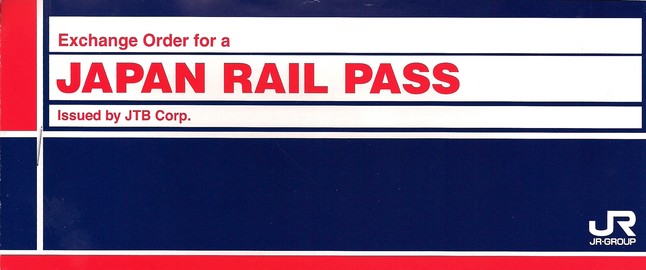 Exchange Order for Pass after arriving in Japan Maps showing voucher exchange locations are found in the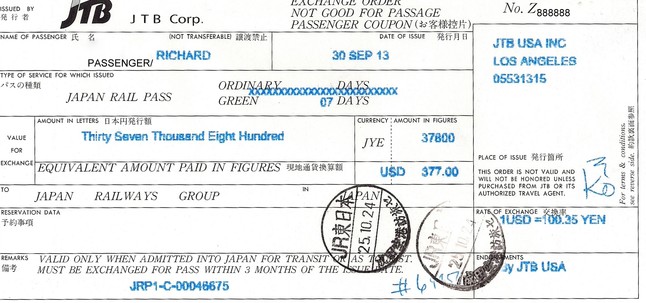 brochure that comes with your exchange order. The most convenient locations are at rail stations located within airports, such as the Travel Service Center in the B1 level (basement) of Narita airport--then you can ride JR trains into Tokyo for "free." If you want your 7, 14, or 21 day Rail Pass to become effective sometime later during your trip, you may still exchange it upon your arrival and specify a later starting date--or, wait to exchange it in another city.

To exchange, you fill out a simple form available there with name, passport number, etc., and present it, your passport, and your exchange order voucher (that you obtained overseas before you came). The JR personnel usually take at least ten minutes or so to prepare your Pass. At the same office, you can (and should) obtain the reserved seat tickets for the JR airport to city train (for Narita to Tokyo, the Narita Express) and any other reserved seats you know you'll need. This is usually a different "window" or "counter" than the pass exchange, but sometimes, depending on the number of people working and waiting, the same clerk may help you. At least one clerk in that office will understand English well enough to help. (Voucher example shown below)
---
Boarding Trains with JR Pass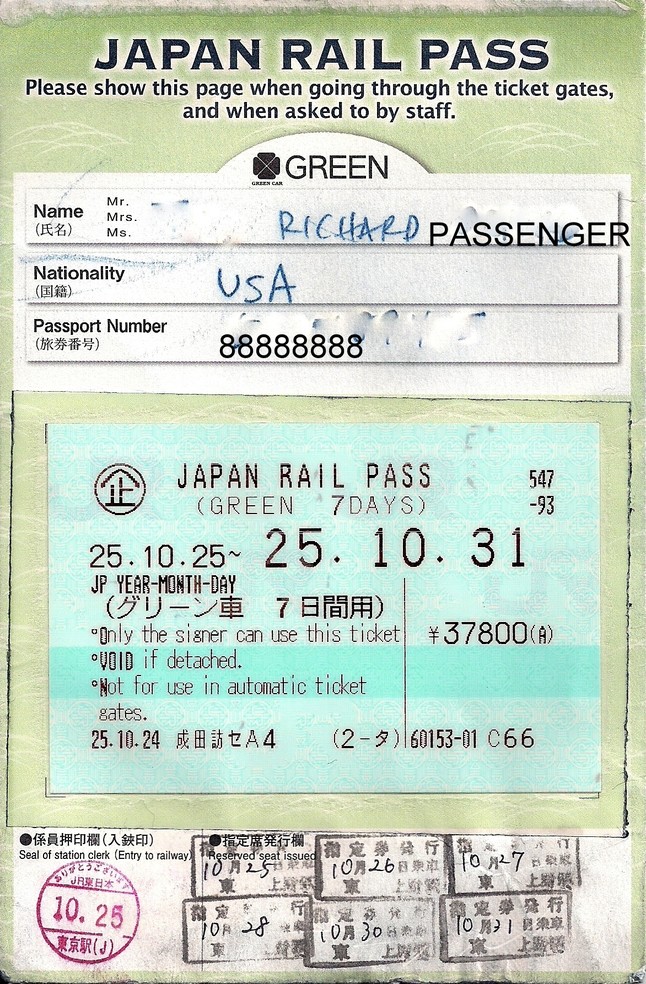 It's all you need--Just Flash It!
Once you've exchanged the voucher you receive the actual pass (example shown at right-actual size is about 4 x 6 inches).
With pass in hand, you simply show the pass to the JR personnel at the kaisatsuguchi (turnstile or ticket gate), both on entering and exiting the track areas. The JR personnel usually wave you through, recognizing you're a foreigner, and only rarely, if ever, look close enough to verify pass validity dates.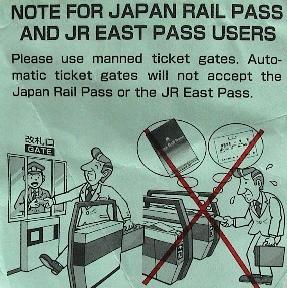 Shinkansen and many big city turnstiles are mostly automatic, using magnetically coded tickets. Pass users must therefore proceed to the manually staffed ticket gate, usually at the far left or far right end of the row of turnstiles.
---
Obtaining Shitei Ken (Reserved Seat Tickets)
Most trains (other than local, commuter-type trains) have both reserved and non-reserved seats. Your Japan Rail Pass entitles you to reserved seats, so why not get them? Reserved seat tickets may be obtained by requesting for them in conjunction with showing your Pass at any JR station Travel Service Center or reserved seat ticket window, called "Midori-no-madoguchi," or at a travel agen

cy in Japan. The green sign at left (with figure in reclining seat) designates a reserved ticket office.
Seat reservations can be made up to one month in advance--best is probably at least two or three days in advance--and may be difficult to obtain for travel during traditionally heavy travel periods. (29 December - 5 January, 29 April - 5 May, 13-15 August). Most Japanese and many Pass users wait to obtain reserved seats until they arrive at the station, since the frequency of trains in Japan is relatively high.

If you have an extensive itinerary you should (1) Review train schedules (see below) and decide which trains you want to ride, (2) Write the relevant information on paper as depicted below, and (3) submit the request sheet with your Pass at the reserved ticket office/window. The format shown below is similar to the Japanese request sheet and should help facilitate your requests and minimize language barriers.
| | | | | | | | |
| --- | --- | --- | --- | --- | --- | --- | --- |
| Mo | Day | Train Name | Dep City | Dep Time | Arr city | Arr Time | Green |
| 10 | 31 | Narita Express 40 | Narita Airport | 17:16 | Tokyo | 18.18 | |
| 10 | 31 | Hayabusa 103 | Tokyo | 18.56 | Sendai | 20.28 | |
| 11 | 01 | Hayabusa 13 | Sendai | 11:54 | Shin-Aomori | 13:29 | |
| 11 | 01 | Tsugaru 6 | Shin-Aomori | 13:43 | Hirosaki | 14:10 | |
Using Reserved Seat Tickets (Shitei ken)
An example shitei ken (reserved seat ticket) appears below. (Actual size is a little less than 3 inches by 2 inches). Key ticket information is translated/notated in red.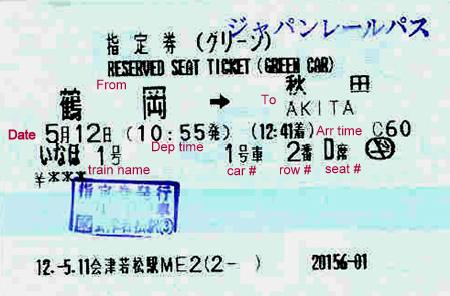 Depending on the personnel behind the counter or perhaps the model of computer terminal they're using, some of the information may appear in ro-maji or in English, but don't count on it, so learning the Kanji for names of cities you'll be traveling to becomes helpful. Use the reserved seat ticket to determine your car and seat number, including where to stand on the train platform. You don't need the reserved seat ticket to get through the gate (just your Pass), but once the train is moving, have your reserved seat ticket handy in case a conductor comes around asking to inspect everyone's ticket. You usually only need to show the conductor the reserved seat ticket and not the Pass. (He can tell by price of '***' that you're a pass holder.) Note: In nearly all of JR East's territory, train conductors rarely check for tickets unless their handheld electronic device shows them a seat is occupied for which a reserved ticket has not been purchased. Other JR companies are not as sophisticated.
---
Airport-JR Train Navigation
There are three major international airports in Japan: Tokyo (Narita), Osaka (Kansai), and Nagoya. In 2011, Tokyo's domestic airport, Haneda, began serving a limited number of international flights for foreign airlines-Delta, for example has only two slots per day; Japan Airlines and All Nippon Airways have more numerous landing slots. Haneda is just a 15-20 minute monorail or cab ride to downtown Tokyo, so the discussion below focuses on the other three international airports that are located somewhat distant from the cities they serve.

Narita Airport (NRT) to Tokyo Station (and beyond)
There are two train lines (JR and Keisei) that go from Narita airport (basement stations) to the Tokyo area, which is 40+ miles distant. Of course, there are also limo and bus services available from Narita to Tokyo hotels and also long-distance bus routes, but this discussion assumes you are using JR trains to take advantage of the JR Rail Pass. JR prices without the pass are about 3,000 yen one way. (Keisei's Skyliner costs about 2,500 yen one way, and is faster (45 minutes vs. 60 minutes), but takes you to Keisei Ueno station, about five minutes walk from JR Ueno station.)

JR's Narita Express (N'Ex) takes about one hour from Narita Airport to Tokyo station. Most N'Ex trains are nonstop, and all seats are reserved. During peak times, trains leave every 30 minutes, and hourly otherwise. After stopping at Tokyo station, a portion of the cars on the N'Ex train continue on to other Tokyo metropolitan area stops such as Shinjuku & Ikebukuro or Yokohama & Ofuna.

If your plans are to change trains at Tokyo station for points beyond, it would be wise to plan ahead and obtain reserved seat tickets for the next leg(s) of your trip while you are still at the travel service center in the basement of Narita airport. Pay attention to the transfer time allowed between trains in Tokyo. Natives could negotiate a transfer in less than ten minutes, but you should allow at least 20 minutes--the Tokyo station is huge, crowded and one can easily become turned around--ok, lost, there. Since the Tokyo station is so huge, if I'm going south towards Kyoto, I usually recommend riding N'Ex to Shinagawa, where changing to the Shinkansen is much easier and straightforward.

From the Tokyo station you can board a JR train to take you virtually anywhere in the country. Tokyo station expanded over the years by adding tracks tunneled underneath the original station and on elevated platforms above the original station. Narita Express arrives in 2B basement of Tokyo station, and the Shinkansen departs clear on the opposite side of the eki from elevated tracks, so you're riding a few escalators and walking through a maze of people, past all the local train lines. It's a bustling place. Navigation is easy, though, if you just look for overhead signs that are color coded. Bullet trains going north and east (JR East - Touhoku, Jouetsu, and Nagano Shinkansen) are designated with a FOREST GREEN color, whereas the bullet trains going south, towards Osaka/Kyoto( JR-Tokai - Tokaikdo/Sanyo Shinkansen) are ROYAL BLUE.

Example of overhead navigation signs you'll see in the 2B basement level of Tokyo station upon arrival via the Narita Express. This sign is directing you upstairs to (from left to right) Tokyo area local lines, Shinkansen lines and subway lines (circles at far right)
Once you've passed through the Shinkansen turnstile, consult the overhead displays and information signs as explained on the previous page to determine your track number and where on the platform you should stand. Train name, car number, etc. are printed on your reserved seat ticket to assist you. If you do become lost, you can always ask for assistance by showing someone your reserved seat ticket-Japanese people are usually very willing to assist helpless foreigners.

Kansai Airport (KIX)
There are also two train lines that serve the Osaka area's Kansai Airport, JR and Nankai. JR's express train between Kansai Airport and JR Shin-Osaka station is called Haruka, which departs every 30 minutes. All seats are reserved. The cost is about 2,500 yen each way--free, of course, if you've exchanged your JR Rail Pass voucher. The average travel time is about 50 minutes. Haruka continues on past Shin-Osaka to Kyoto, 25 minutes travel time, for an additional 1,000 yen. (Total ticket price of about 3,500 yen if you didn't exchange your Pass). The private (non-JR) Nankai line is more suited to locals in my opinion.

The Kansai airport train station is about a six minute walk from airport terminal's third floor level. There you'll find a travel service center located adjacent to the turnstile area where you can exchange your JR Rail Pass voucher and/or obtain reserved seat tickets.
---

Online timetables give you options for planning your travels in advance. Once you arrive in Japan, an (old-fashioned) jikokuhyou, or a Smartphone App, discussed below, makes sense.
Online Schedules. For pre-trip planning purposes, I highly recommend Hyper-Dia's English timetable or Jourdan Train Route Finder (click on the word "English" if the Japanese language page appears). These online services search specific dates and times, and then display multiple suggested choices. Hyperdia allows narrowed search parameters at the bottom of each result page, such as limiting results to only JR trains or excluding Nozomi/Mizuho-class trains (both helpful if you'll be using a JR Pass). (If traveling on the Tokaido (Tokyo-Osaka) or San'yo (Osaka-Hakata) Shinkansen using a Rail Pass, you'll need to click this timetable link to see only Hikari trains, since only the fastest Nozomi trains will appear as suggested "courses." Rail Pass is not valid on Nozomi or Mizuho (Kyushu) trains, but is valid on the Hayabusa trains in Touhoku. These search engines are far more user-friendly than even JR's Japanese-language Cyberstation discussed below. If you can read Japanese, the Japanese language pages for both of these sites provide more options for searching, and Jourdan's Japanese page allows keying-in ro-maji that results in Kanji choices.
If you're familiar train/route names in Touhoku, JR-East has an English Timetable section on their website. Rather than city-to-city route search capabilities. these timetables look a lot like the printed jikokuhyou described below, but are limited to Shinkansen and Limited Express routes; no local trains are displayed.
Train Schedule Apps for Smartphones. Hyperdia has an iPhone App that is free to use for 30 days. It also has an Android App (but I've not used it, since I have an iPhone.) While in Japan, you would need to have arranged International data service to use this app for your smartphone.
---
Telephone Assistance English-language assistance and travel information is available during working hours on the Japan Travel Phone, toll-free outside of Tokyo and Kyoto 0088-22-4800. Local call in Tokyo 03-3201-3331 or Kyoto 075-371-5649. JR has an English-language hotline in Tokyo at 03-3423-0111, open weekdays 10 AM to 6 PM.
---

Japanese Language Printed Schedules. Monthly paperback jikokuhyou (timetables) are published monthly in Japan and sold just about wherever newspapers are sold, and range in price from about 400 yen for a small print version to about 1,000 yen for the deluxe full-sized version. I usually buy one at a kiosk located adjacent to the JR ticket office at Narita airport. I've also seen them for sale in Japanese bookstores in the U.S. The jikokuhyou are only in Japanese, but with a little practice, relatively easy to use if you know the kanji for main cities. The full size version, which all train station ticket offices keep on hand, also lists cities in hiragana. Hints for reading jikokuhyou are discussed below. Another interesting thing about jikokuhyou is that virtually all public transportation, including buses and domestic air routes are listed in them.

JR Group's web site, called Cyberstation (Japanese only) includes seat availability inquiry (limited to one month in advance), real time schedule inquiry (similar to US Airline arrival information) and fare information. You really need to know the train route names (Touhoku Shinkansen, for example) and kanji to effectively use this site, however. Seat availability is generally only a worry during peak holiday periods, such as: Golden Week, 29 April to 6 May, Obon (11-20 August), and New Years (28 December to 6 January).

Reserve versus 'On The Fly' If you're a real adventurer, and especially if you're not traveling during a peak travel period, with JR Rail Pass in hand, you can freely board any JR train (except Nozomi & Mizuho - JR Rail Pass holders must ride Hikari or Sakura, respectively) and sit even in an empty reserved seat. If a conductor comes around, just show him your Pass. He may move you to a reserved seat that he knows will not be filled on a subsequent stop. If you have destinations in mind, you can obtain reserved seats and assistance in advance at the green midori no mado-guchi (reserved ticket windows) located in each JR station as discussed in the JR Rail Pass page.
Japanese Timetables--How to Read.
Below is a page from the large deluxe jikokuhyou (timetable) mentioned above. The jikokuhyou is divided into sections of train routes, such as the Touhoku Shinkansen shown below. Maps of Japan rail lines with page references are found at the front of the jikokuhyou. You should note that the large deluxe version (about 1,000 yen) is the only jikokuhyou that lists city names on the first page of each section in hiragana (as shown below); all smaller versions list them in kanji only. These full-size jikokuhyou are the kind that are found in each eki (train station) on the desks near the midori-no-madoguchi (green window/reserved ticket) counters to assist riders in choosing which train to reserve. See Obtaining Reserved Seat Tickets, discussed on the Japan Rail Pass page.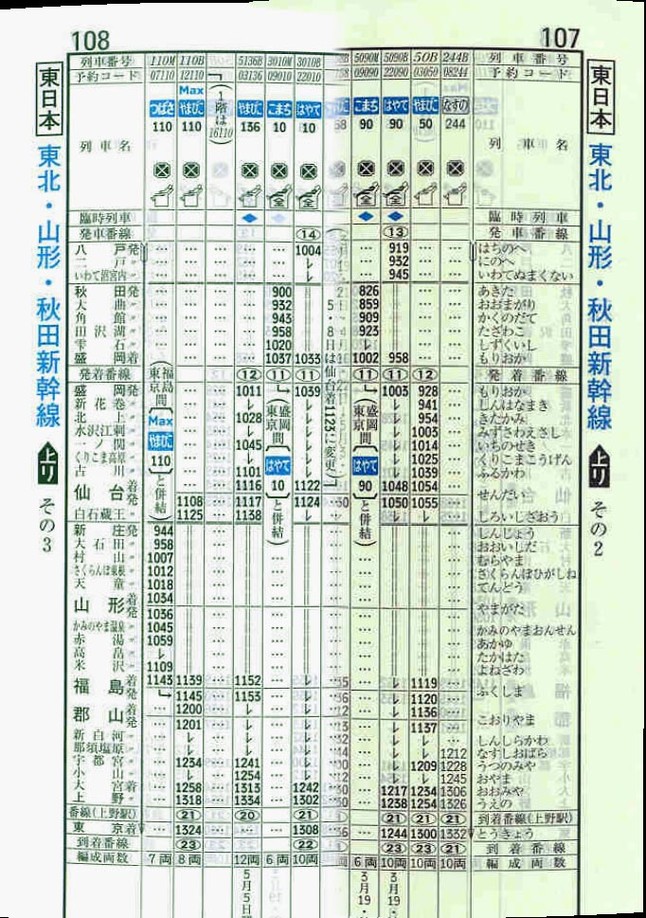 Train names are at the top of each column. Hayate 90 is the one we'll look at. It is the third column over from the right-hand margin. Military time is used in Japan.

Hayate 90 departs Hachinohe at 9:19 AM and arrives in Tokyo at 12:44 PM.

During a 5-minute stop in Morioka, the Akita Shinkansen Komachi 90 links up with Hayate 90 and the combined train continues to Tokyo.
The name of each station is displayed in Kanji down the margin. (Hiragana, shown on the right-hand margin here, is only shown in the largest size version of jikokuhyou)
---
Station Names All rail and subway stations display station names in both Japanese and Roman letters on their platforms. A station's name is in the center of the signboard, in large letters; the names of the previous station and the next station are at the bottom of the signboard, in smaller letters.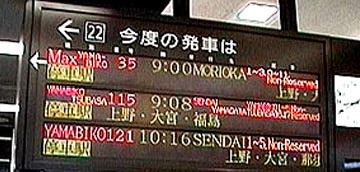 Station Displays Most stations have electronic displays for each track that show departure times and train names. Shinkansen and large city station displays alternate between English and Japanese, as shown in the shot at right that announces the next three departures on Tokyo Station's track 22.
---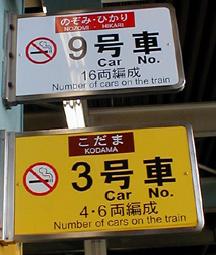 Where to Stand on Train Platform On each train platform (noriba or ho-mu), there are small signs that designate where specific car numbers stop on the platform. These signs are usually at eye level or are painted right onto the platform at "shoe level." You need to know the name and number of the train you intend to ride; for example, "Max Yamabiko 35," as well as your car number. This information appears on your reserved seat ticket. These signs are electronic in all but the smallest stations.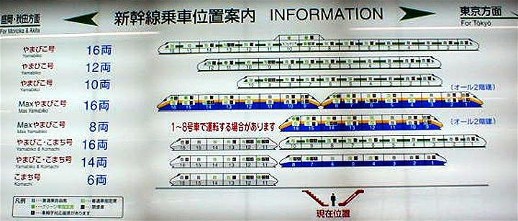 For Shinkansen, it is also helpful to know the total number of cars on the train, for example, a 16 car train, which information can usually be found on electronic overhead displays in the stations near the escalators up to the Shinkansen track level (refer to the picture above, which is a non-electronic example).
The platform car number designation signs will either list specific train names (Yamabiko 35,47,49), or total cars (8 ryou, 16 ryou), then the car number for that "standing" spot. Train cars are consecutively numbered, so you can make your way up or down the platform until you find the place to wait for the car number listed on your reserved seat ticket. Also remember that anyone will help if you ask.
---
Onboard Announcements Announcements on all Shinkansen and most tokkyuu (limited express trains) are recorded in both Japanese and English. Announcements generally give information about amenities and stops. You can also find electronic sign boards in most green cars (first class) that give news, weather, and stop information in both languages. About three minutes before a train stops, music plays and the stop and exit side (right or left) are announced.

Onboard Telephones and Cell Phone Use Shinkansen and some tokkyuu (limited express trains) are equipped with public phones for domestic use, which require use of a "telephone card" (magnetic prepaid card). Telephone cards are usable instead of coins on virtually all Japanese public phones, and can usually be purchased aboard trains. Be advised that these phones do not always work perfectly, especially in tunnels (similar to poor cellular connections). Cell phone (keitai) use is allowed on trains in Japan, but never inside a car in the seating area - only in the 'deck,' the space between cars. Many of the numerous railway tunnels throughout Japan are equipped with cell phone signals, in my experience, not all.
---
Link to Top