Japan Sendai Mission 日本仙台伝道部
Teruya Jidai ('74-'77) 照屋時代帰還宣教師
RM Site-同窓会サイト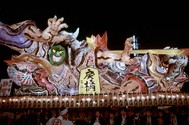 Next Reunion?次のリユニオン?
Next Reunion When? Where? USA 次のリユニオンは いつ、どこ? Japan
Japan:
March 15, 2024
is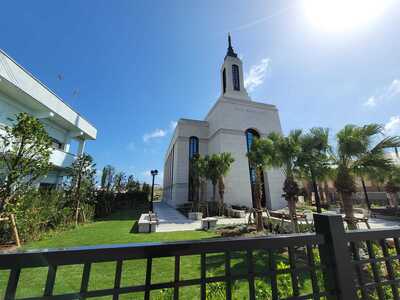 the date for the upcoming reunion in Japan for Teruya Jidai RMs, to be held in Okinawa after the November 2023 dedication of the Okinawa Temple (picture was taken in April 2023). The Japan RM organizers are hopeful that RMs from the US and Canada can join in person or by Zoom. Translations of Iwanaga-b's emails sent to RMs in Japan appear below (oldest at bottom). If you're thinking about a trip back to Japan, this may be a great opportunity! If you decide to go, please contact them as soon as possible - Iwanaga's email is erock.haru@me.com
For those who want to join online, we'll post a zoom link once it becomes available.
Please note that 3PM-8:30PM Japan Time on March 15, 2024 is Midnight-5:30am Mountain Daylight Time)
RSVPs as of 12/1/23, from Iwanaga-b. He reports around 20 more RMs in Japan have said they'd join the Zoom.
| | | | | |
| --- | --- | --- | --- | --- |
| | | 田代(佐々木)さつき | Tashiro s | 2 |
| | | 玉城(川門カワジョウ)夏子 | Tamashiro s | 2 |
| | | 引地 尚美 | Hikiji s | 2 |
| | | 古原 勲 | Furuhara b | 2 |
| | | 水野谷(志民) 幸子 | Mizunoya s | 3 |
| | | 山口(畦倉) 信子 | Yamaguchi s & b | 3 |
| | | 山崎 司 | Yamasaki b & s | 3 |
| | | 安次嶺 主恵 | Ashimine b | 2 |
| | | デイ | David A Day b & s | 3 |
| | | ワール | Dion R Wall b & s | 3 |
| | | | count | 25 |
Translations of Okinawa Reunion Announcement Emails:
October 31, 2023
Dear Teruya jidai RMsFrom the north comes the message of frost. How is everyone doing?
Regarding the reunion in Okinawa at the beginning of the year, as we announced in the information in May, the time to make the final decision to participate is drawing near. If you are planning to participate in person, how about arranging air tickets and accommodation?  
I would like to hear your response to this decision again under the above circumstances. Also, as we have requested in the past, we would like to receive photos from your mission, whether you participated in person or online, so if you have not yet done so, please do so. We would appreciate it if you could receive a reply regarding your final decision on whether or not to participate, whether it be in person or online, by November 10th. (It was written as December, but it was a typo) Thank you very much for your understanding.
In the future, we will also inform you about the performances (including a Ryukyu karate performance) and meals.
Regarding Okinawa temple session reservations that must be made two months in advance.
Applications will be accepted online from 12:00 AM on January 1, 2024.
The endowment time slot is currently announced as
From 7pm on Thursdays, the time slot overlaps with 7pm Reunion on Fridays.
There are 3 sessions on Saturday: 8:00 AM, 11:00 AM, and 1:00 PM.
Even if you are a facilitator, please make sure to make reservations for a small number of people.
Brother Iwanaga will present a nostalgic video of President Teruya serving as Tokyo Temple president.
Here's a link to the historical booklet put together for the Tokyo Temple rededication fireside (japanese) in which the Teruyas are featured.
We look forward to meeting you either in person or via Zoom for the reunion.
*Previous notifications were sent on June 25th and August 2nd. Organizers: Ichikawa, Oyama, Fukunaga, Ashimine, Tamashiro, and Iwanaga. (Admin Note: Reunion Organizers who have joined our Site can be sent a secure private message from their respective profile pages - I've added links.)
August 2 , 2023
The heatwave continues every day, so please take care of yourself.
We are currently preparing for the Returned Missionary Conference in Okinawa next March .
I have two announcements and requests:
1. About securing accommodation in Okinawa
In Okinawa, some inns have already started accepting reservations for March accommodation online.
We would like to inform you that it will be safer if you make a reservation early.
In particular, there is a high possibility that reservations for consecutive nights are already booked.
By the way, you can currently make reservations for Hotel Route Inn online.
Also, some places seem to accept reservations over the phone.
2.About the photos from the time of the mission to be used on the day
When people meet again after decades, it can be difficult to remember who each other is. For this reason, when you meet face-to-face, you are required to wear a name tag with a photo from that time. A similar image will be displayed on the screen even when participating online.
For that reason, I would like to receive photos from that time in advance.
There's still time until the day, but as the day approaches, I get busy, so I'd like to get ready early. Preliminary preparation requires processing such as cropping and image correction of photos, and if it is for dozens of people, it will take a certain amount of time, so we ask for your cooperation.
 It is not necessary for those who have already sent it or those who attended in-person at the Tokyo Temple Annex last time. Please use the furigana of your name at the time , and use digital data (scanned images or photos taken with your smartphone).
Send to erock.haru@me.com Iwanaga
If you have any questions or concerns, please feel free to ask.
 All the managers: Ajimine, Ichikawa, Iwanaga, Oyama, Kawamon (nee Tamaki), Fukunaga
June 25, 2023
How are you spending the summer solstice?
The other day, we announced the schedule for the Returned Missionary Conference in Okinawa.
Thank you very much for letting us know your plans to participate.
In Okinawa, approximately 50 participants are expected, both in-person and online.
We would like to inform you that the opening time has been decided.
We have summarized the information below in conjunction with the previous announcement.
Date and time: March 15, 2024 (Friday) 15:00-20:30
Location: 3rd floor, Naha Ward (3-10-1 Akebono, Naha City, Okinawa Prefecture)
Content: Stories from participants (face-to-face & online).
We are planning dinner, chat, Okinawan celebratory dance, Okinawan karate performance, and music.
What participants should prepare: Photos taken during the mission (excluding those who participated in the Tokyo Temple Annex last time)
We will make name tags with your photo from the time of your mission in advance, so please include your photo and your name while on your mission.
Please send the furigana by email. Photos are digital data (scanned images)
Or take a photo with your smartphone). This also applies to online participants.
Send to erock.haru@me.com Iwanaga
Participation fee: 2,000 yen/person for face-to-face participants (including dinner on the day)
However, if accompanied by a family member, the fee is 1,000 yen, and free for participants from overseas.
If you have any questions or concerns, please feel free to ask.
All the managers: Anjimine, Ichikawa, Iwanaga, Oyama, Kawamon (nee Tamaki), Fukunaga
---
USA: We're planning on Friday October 4, 2024 for our next USA reunion in Salt Lake, when we can commemorate the 50th anniversary of the founding of the mission, as well as the mission's restablishment July 1, 2024, after a five-year hiatus. Yoroshiku Onegai Shimasu!
暫定的に 2024 年 10月4日(金)に次の米国再会を計画しましょう。その時点で、仙台伝道部の創設 50 周年を記念することができます。よろしくお願いします。

Oct 2019 45th anniversary reunion
---
Why not more often? Yes, we're getting old and yes, we've already lost a few of our fellow RMs. For those who don't live in Utah, traveling to a reunion is a bigger deal - we have found that if we have 'bigger' reunions less often, lately every five years, with plenty of notice, more RMs will be able to attend.
How can you help?
We have many Teruya-jidai
'Missing RMs'
& RMs who haven't yet updated their
RM List
profiles on our Site, which is our primary method of contact for reunions. If they haven't joined us here, they likely will not hear about reunions.
You may be the only connection back to them-
please roll up your sleves, do a little detective work, and help by contacting them directly to join us here at
japansendai.org
. Once they've updated their profile here, they'll receive Site notices such as reunion announcements, and their name will automatically drop off the 'Missing' list.