Japan Sendai Mission 日本仙台伝道部
Teruya Jidai ('74-'77) 照屋時代帰還宣教師
RM Site-同窓会サイト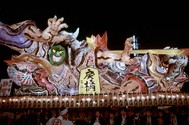 Next Reunion?次のリユニオン?
Next Reunion When? Where? 次のリユニオンは いつ、どこ? USA Japan
Japan:
March 15, 2024
has been set for next planned reunion in Japan for Teruya RMs in Japan, to be held in Okinawa after the November 2023 dedication of the Okinawa Temple (picture below was taken in April 2023). They're hopeful that RMs from the US and Canada who are interest can join, so their asking Japan RMs for a tentative count by May 26th (two weeks). Iwanaga-b's email sent to RMs in Japan on 13 May 2023 appears below. I think they could accomodate any RMs who (eventually) decided to trek all the way to Okinawa, but it wouldn't hurt to contact them now with your level of interest.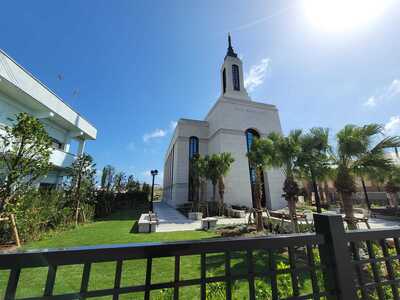 照屋時代の帰還宣教師の皆様へ昨年11月の東京神殿別館でのリユニオン開催時に、次回は沖縄神殿建立後に再会しましょうと話していました。先日、沖縄神殿のオープンハウスと奉献式の日程が正式に発表されました。それを受けて神殿儀式開始後の落ち着いた時期に他の諸事情も鑑みて日程を設定しました。日程は来年2024年3月15日(金)、午後からとしました。会場は当初神殿の隣にある沖縄ワードを検討していましたが、使用状況の関係で那覇ワードに変更し、その使用許可をいただきました。そこで参加者の人数を把握し開催時間など決めるために、参加予定の返信をお願いいたします。対面またはオンライン(ZOOM)での参加予定をお知らせいただきたく、ご多忙中恐縮ですが返信は5月26日までにいただけると幸いです。現時点では仮予定とし、航空券購入ならびに宿泊手配などの後の、本決定は今年10月末までを想定しています。尚、こちらで連絡先を把握していない方もおられるので、みなさまがご存じの方にお知らせ頂けないでしょうか?"知っていれば、参加したのに" と、残念な思いをされる方がいらっしゃらないように願っています。また次回は開催地が沖縄ということからか、アメリカの帰還宣教師の間には参加意欲が大きいと聞こえてきます。私たちも懐かしい旧友に会えることをとても楽しみにしています。以上よろしくお願い致します。世話役一同  市川、大山、福永、安次嶺[あしみね]、川門[かわじょう](たましろ)、岩永
Translation: Dear Teruya Jidai RMs: At our reunion at the Tokyo Temple Annex last November, we said that we would meet again after the Okinawa Temple was built. The dates for the open house and dedication of the Okinawa Temple have been set for this Fall. The reunion date is set from the afternoon of March 15, 2024 (Friday), well after the temple is up and running smoothly. It will be held at the Naha Ward. In order to determine the number of participants and decide timing, please let me know your plan to participate in person or online (ZOOM) by May 26th. Final details are expected to be made by the end of October this year, including accommodation options. Please spread the word and share contact information of other RMs (in Japan) so we can notify them - I hope that no one will be disappointed and say, "If I had known, I would have participated." Also, because it's Okinawa, we hear there is perhaps a strong desire to participate among RMs from the United States and Canada. We are very much looking forward to meeting old friends. Thank you very much. Organizers: Ichikawa, Oyama, Fukunaga, Ashimine, Tamashiro, and Iwanaga. (Admin Note: Reunion Organizers who have joined our Site can be sent a secure private message from their respective profile pages - I've added links).
---
USA: We're tentatively planning on April or October 2024 for our next USA reunion, when we can commemorate the 50th anniversary of the founding of the mission. Since our Japan RMs are planning on a Spring 2024 reunion in Okinawa, it might make the most sense to have ours in October.
暫定的に 2024 年 4月か10月に次の米国再会を計画しましょう。その時点で、仙台伝道部の創設 50 周年を記念することができます。

Oct 2019 45th anniversary reunion
---
Why not more often? Yes, we're getting old and yes, we've already lost a few of our fellow RMs. For those who don't live in Utah, traveling to a reunion is a bigger deal - we have found that if we have 'bigger' reunions less often, lately every five years, with plenty of notice, more RMs will be able to attend.
How can you help?
We have many Teruya-jidai
'Missing RMs'
& RMs who haven't yet updated their
RM List
profiles on our Site, which is our primary method of contact for reunions. If they haven't joined us here, they likely will not hear about reunions.
You may be the only connection back to them-
please roll up your sleves, do a little detective work, and help by contacting them directly to join us here at
japansendai.org
. Once they've updated their profile here, they'll receive Site notices such as reunion announcements, and their name will automatically drop off the 'Missing' list.