Japan Sendai Mission 日本仙台伝道部
Teruya Jidai ('74-'77) 照屋時代帰還宣教師
RM Site-同窓会サイト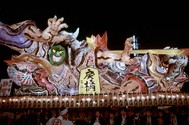 Japan Travel Tips
Admin Note: These tips are my opinion, based on more than 30 trips back to Japan since mission days. Suggestions are always welcome using a 'Contact Us' entry. If you click on a link that is outdated, please let us know.
---
General Japan Travel Tips
Kakunodate (between Akita and Morioka) 24 Apr 2009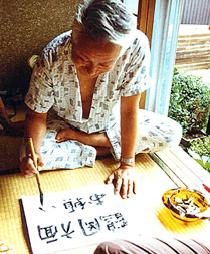 "Tsuruoka hōmen--onegai" (going the direction of Tsuruoka-please)
Coin lockers at Hakodate eki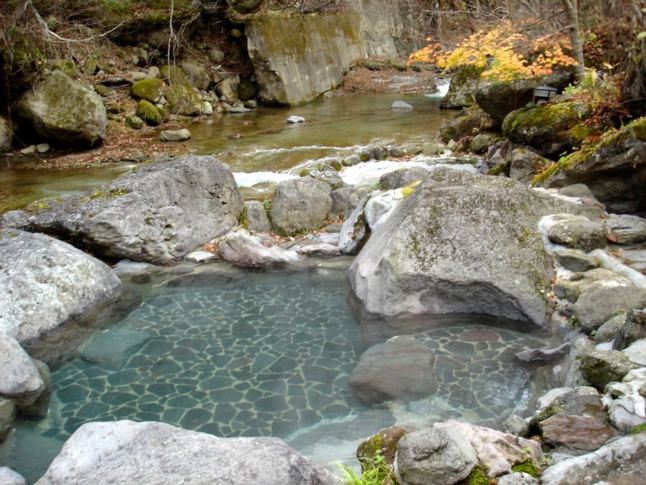 Streamside rotenburo (open air bath) at an onsen in Tohoku
Favorites: Kiyomizu-dera, Kinkakuji

Hotel. Lots of hotel choices, but the closer you are to Kyoto Eki, the better, in my opinion.

JTB Sunrise Tours - An easy way to get around to top venues with an English-speaking guide at a reasonable price. JTB Tours and Packages - decide for yourself what makes the most sense for you. I recommend the Kyoto Morning Tour (8:30 departure from Avanti's Sunrise Tours Desk (across from Kyoto Station Hachijo Exit) (only on weekdays, since Imperial Palace closed Sat-Sun), and I also recommend the Kyoto Afternoon Tour (13:30 departure from Avanti's Sunrise Tours Desk (across from Kyoto Station Hachijo Exit))
Nara - The only 'must see,' in Nara, in my opinion, is "Todai-ji" where the

great Buddha is housed, but is easy to navigate on your own, vs. a tour. It makes a nice full afternoon when the light is better, perhaps after a Kyoto Morning Tour (discussed above). Using JR Rail Pass, you can ride a JR 'rapid service' commuter type train that takes only 44 minutes from JR Kyoto to JR Nara. Todaiji is about 5 minutes by taxi; allow about two hours there. We usually walk back to JR Nara station (vs. taxi) – it's not too crazy and kind of charming. After 'Rapid Service' train back to Kyoto, Porta Mall (underground restaurant mall) out the Kyoto eki's Karasuma exit side, has lots of options for dinner.
Himeji-jo - you can climb up to top on steep samurai stairs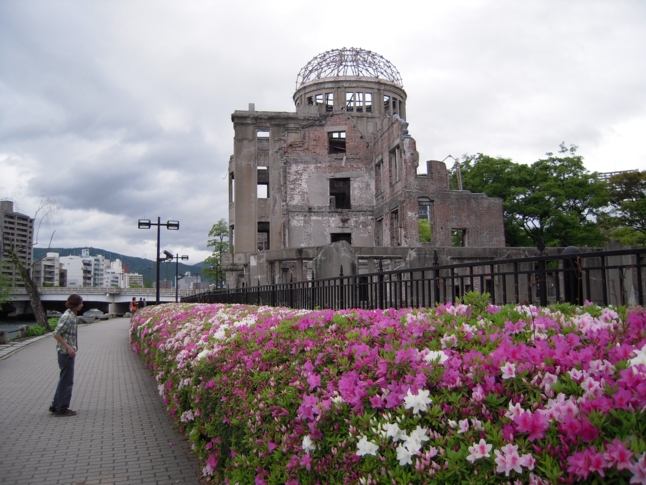 Hiroshima genbaku do-mu; part of grounds of museum
---
For more details and to purchase, Rail Passes should be bought online less than 30 days prior to first intended use in Japan, and on the only official JR Rail Pass dedicated site, japanrailpass.net/en/ (other sites are third-party and don't allow online reservations, so I don't recommend them). You enter your passport information online at purchase and you pick up the actual pass up after arrival in Japan (and show your passport).

Japan Rail Pass Value A JR Rail Pass allows you virtually unlimited reserved seat travel on all of the JR Group rail lines, including all Shinkansen (Bullet Trains) except Nozomi and Mizuho trains, the fastest Shinkansen running between Tokyo west to Osaka and Kyushu, respectively, which require additional incremental fares for each use for Japan Rail Pass holders. Hikari and Sakura Shinkansen run these same routes at no cost to JR Rail Pass holders, but make a few more stops. To demonstrate Pass value:
Individual Shinkansen Ticket Purchase
versus
7-day Japan Rail Pass (Ordinary Seats)
Tokyo to Sendai, round trip
23,220 yen

SEVEN (consecutive) daysof unlimited reserved seat travel on JR Lines, anywhere, including Shinkansen (except 'Nozomi' or 'Mizuho,' which require additional fares for each ride) =

Tokyo to Kyoto on 'Hikari," round trip
28,100 yen
Total
51,320 yen
50,000 yen
Conclusion: A Japan Rail Pass makes sense to purchase if you plan to travel from Tokyo to even just two destinations (these are each 2-3 hours of travel).
Regional JR Passes If your travel will be restricted to only one region, consider buying a regional JR pass. For example, JR in Tōkyō area and northeast to Tōhoku all falls within the JR East region. JR East Passes (Tōhoku) are 5-day consecutive-use passes available for 30,000 yen, and are bought online on this JR East Pass webpage, where once purchased, advance seat reservations may also be made for only JR East trains. It might also make sense to buy a JR East pass for the first part of your travels (Tōkyō, Tōhoku), and an all-Japan JR Rail Pass for travel elsewhere that follows. Please note that JREast does not offer Green car passes.

What about a Green Car Pass? Consider choosing a "green car" (comfort class) pass over the ordinary JR Rail Pass. For a 40% incremental cost, you then can travel in the green car available on all but local trains. Green cars are generally more quiet, have wider seats, and may be easier to reserve than ordinary seats. Around Tokyo, many commuter trains have green cars as well.
| | |
| --- | --- |
| | |
| Shinkansen Ordinary Seat Configuration (2x3) | Shinkansen Green Car Seat Configuration (2x2) |
Prices for Japan Rail Passes
Prices are effective October 1, 2023. Rail Passes should be bought online less than 30 days prior to intended use in Japan, using the only official JR Rail Pass dedicated site, japanrailpass.net/en/ (other sites are third-party and don't allow online reservations, so I don't recommend them). You enter your passport information at purchase.
Type:
Green
Ordinary
Duration
Adult
Child 6-11
Adult
Child 6-11
7-day
70,000 YEN
35,000 YEN
50,000 YEN
25,000 YEN
14-day
110,000 YEN
55,000 YEN
80,000 YEN
40,000 YEN
21-day
140,000 YEN
70,000 YEN
100,000 YEN
50,000 YEN
Within one month of online purchase, pick-up your Pass in Japan at a JR ticket office by presenting the passport you entered online to purchase. Your passport eligibility as 'temporary visitor/stay for sight-seeing' will be confirmed.
---
Boarding Trains with JR Pass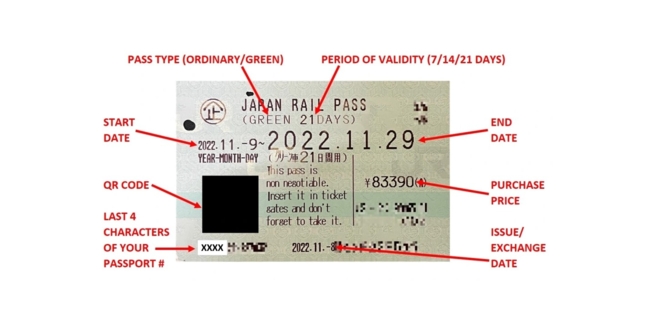 Once you've received the actual pass after arrival in Japan (depicted above) JR Pass users go through automated station turnstiles to gain access to track areas, and it also gives them the ability to make seat reservations at ticket machines (see Reservations section below).
Note: If you reserve seats, you'll receive a separate, same sized reserved seat ticket, but don't insert it into the automated turnstile, only your JR Pass, which gets you access to the track area.
Your JR Pass is all you need. Simply insert your JR Pass into the slot at unmanned, automated turnstiles, but don't forget to retrieve it when it pops up on the other side!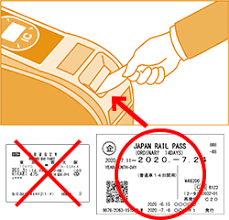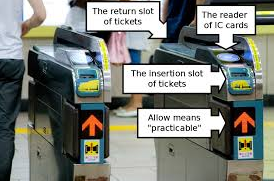 (the X at left above is showing NOT to also insert your reserved seat ticket into the automated turnstile)
---
Obtaining Shitei Ken (Reserved Seat Tickets) - Two Options:
Most trains (other than local, commuter-type trains) have both reserved and non-reserved seats. Your Japan Rail Pass entitles you to reserved seats, so why not get them?
Option 1: At a Ticket Office
Reserved seat tickets may be obtained by requesting for them in conjunction with showing your Pass at any JR station Travel Service Center or reserved seat ticket window, called "Midori-no-madoguchi," or at a travel agen

cy in Japan. The green sign at left (with figure in reclining seat) designates a reserved ticket office.
Seat reservations can be made up to one month in advance--best is probably at least two or three days in advance--and may be difficult to obtain for travel during traditionally heavy travel periods. (29 December - 5 January, 29 April - 5 May, 13-15 August). Most Japanese and many Pass users wait to obtain reserved seats until they arrive at the station, since the frequency of trains in Japan is relatively high. Green car seats may be easier to obtain than ordinary reserved seats.
---

Typical example of overhead navigation signs you'll see in the 2B basement level of Tokyo station upon arrival from Narita Airport via the Narita Express. This sign is directing you upstairs to (from left to right) Tokyo area local lines, Shinkansen lines and subway lines (circles at far right)
Shinkansen Map
---
---
---
---
---
---
---
---
Link to Top