Japan Sendai Mission 日本仙台伝道部
Teruya Jidai ('74-'77) 照屋時代帰還宣教師
RM Site-同窓会サイト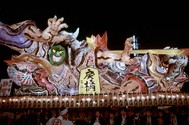 Sapporo札幌神殿(2016)
Open House and Dedication The Sapporo Temple Open House was held 08-23 Jul 2016, with the dedication held 21 Aug 2016. Teruya RMs living in Japan held a reunion the day before the dedication in Sapporo-details here. Video Tour (youtube)
Temple District includes part of Touhoku The Northern part of Touhoku is included in the new Sapporo Temple district. Brother Murakami of Aomori was in charge of the Cultural Night held before the dedication.
Admin Note: I was lucky enough to be in Japan during the first days of the Open House. I was most surprised by the size of the grounds - perhaps more acreage than SLC's Temple Square - then afterwards read that the land was formerly the site of Shin-Sapporo golf center (probably a big golf driving range). It is located adjacent to the campus of Hokusei Gakuen University, less than 10 minutes walk from the Oyachi subway station on the Tozai line (map). While there I was able to spend time with two Teruya Jidai RMs: Tim Branham, then serving with his wife Cathy as Public Affairs missionaries in Tokyo, who served as guides for VIPs/Media/Opinion Leaders, and Yoshimura Nobuyuki, who had lived for the previous two years in Sapporo serving as the Church's Project Site Manager for the temple. Seeing how well everything turned out, Yoshimura Kyodai certainly deserves kudos! Below are some of the (many) pictures I took that day-some were taken by Cathy Branham as well. An interesting observation is that the grounds are not fenced off; perhaps this was a zoning requirement. Some very nice Japanese touches were evident both on the grounds and in the temple itself - check out the following webpages that include interior 'official' pictures as well as some historical information: lds.org mormonnewsroom.org <18 'official' photos ldsliving ldschurch temples.com map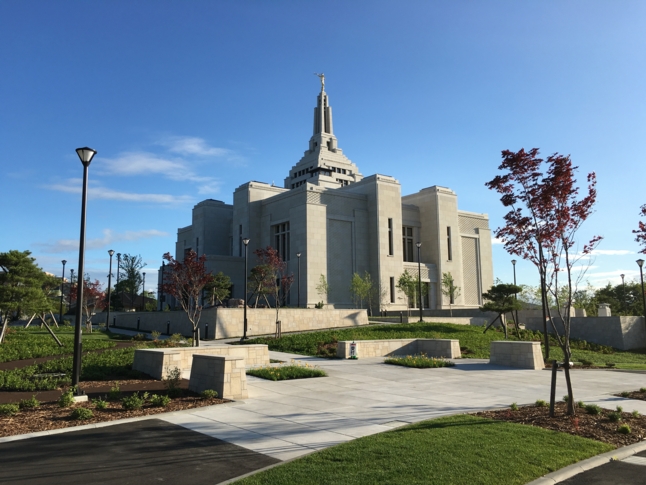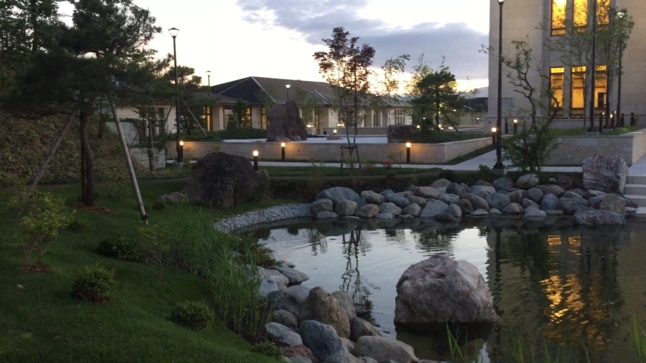 In the background at left is the 'arrival center." They say there is room on this parcel for a future meetinghouse as well.
The arch in the background is a well-know Sapporo landmark, "Rainbow Bridge." That's me in the blue shirt, rushing to take the twilight shot below. Mission Home/office buildings and Temple Presidency/Patron housing buildings are visible in the background.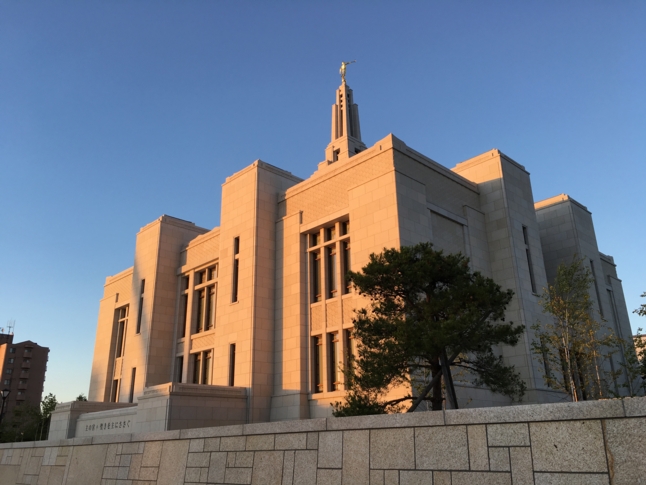 An awesome stream, pond and bridge is on the East side of the Temple.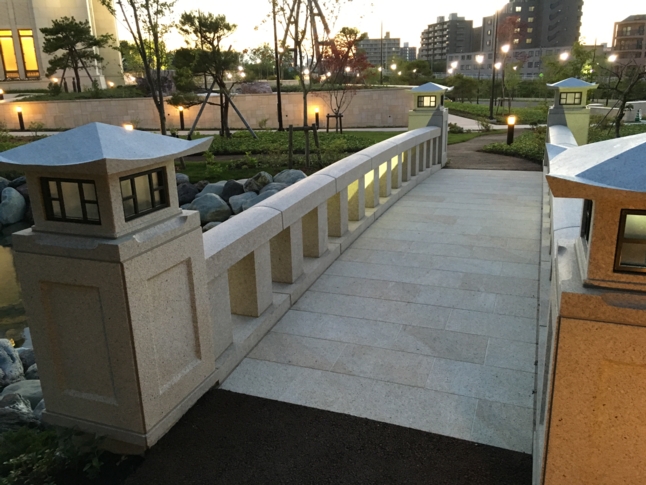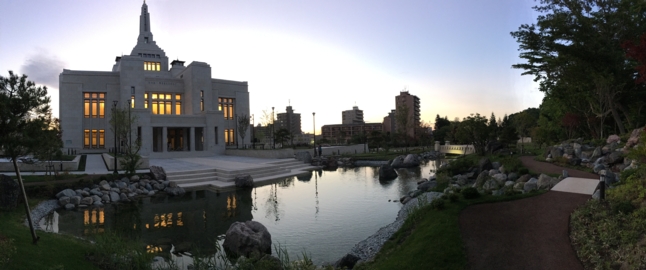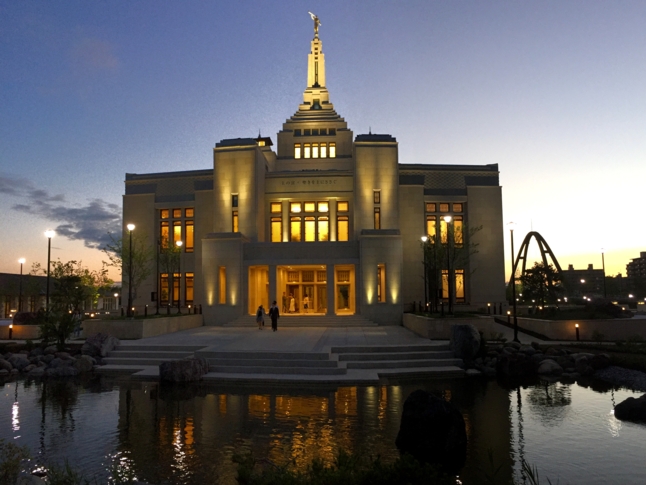 ---
Mission History Section Links: