Japan Sendai Mission 日本仙台伝道部
Teruya Jidai 照屋時代帰還宣教師
Official RM Site-同窓生サイト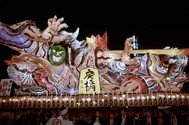 History & Boundaries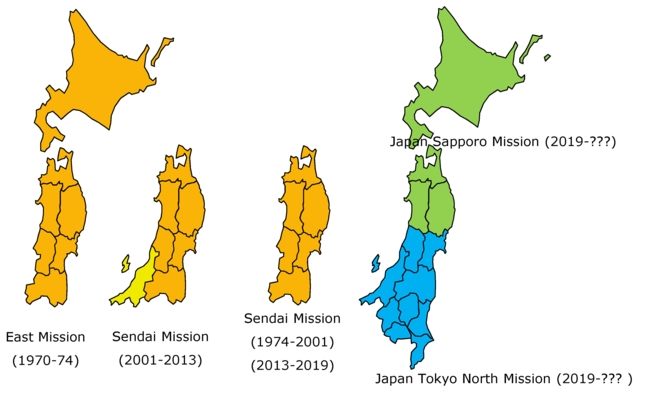 History of the Church in Japan LDS Missionaries first arrived in Japan in 1901, with Heber J. Grant as the first mission president. Missionary efforts continued until 1925, and included missionary work in Sendai and Morioka, but were abandoned until post-World War II. LDS missionaries have been serving in Japan continuously since 1948. A chart of the ever-changing History of LDS Japan Mission Names and Area Boundaries appears below.
Sendai Mission History and Boundaries The Sendai Mission was established 01 July 1974 when the Japan East Mission, which was headquartered in Sapporo and had only existed for four years, was split into two missions. The island of Hokkaidō became the Sapporo Mission and the six-prefecture Tōhoku (Northeast) region of the island of Honshū became the Sendai Mission, including the southeastern-most city of Iwaki, which had been part of the 'Japan' Mission prior to this date.
The Tōhoku-only Sendai Mission boundaries remained consistent for 45 years except for the 12 years from 2001 to 2013, when branches in Niigata prefecture were briefly a part of the Sendai Mission.
Effective 01 Jul 2019, 45 years after its creation, the Sendai Mission was dissolved and split basically in half - the northernmost Aomori, Iwate and Akita prefectures (Morioka and Aomori Districts) became part of the Sapporo Mission, and southernmost Miyagi, Yamagata and Fukushima prefectures (Sendai Stake and Koriyama District) became part of the newly re-created Tōkyō North Mission. Tōkyō North Mission doesn't include the Tōkyō Stake, which was shifted into the new boundaries of Tōkyō South Mission. For now, Tōkyō North Mission's headquarters is in Sendai and President Sekiguchi, who served as Sendai's Mission president for two years, will preside over the newly (re) created Tōkyō North Mission. On some Sendai Mission Facebook groups, some have been calling the new mission the "north of Tōkyō" mission.
Mission Names and Boundaries History Over the years, border shifts, mission dissolutions, additions and consolidations have affected all missions in Japan. From 1984 to 1995 there were ten missions in Japan; now there are six. These realignments are reflected in the chart below. Feel free to address questions or corrections using a 'Contact Us' entry.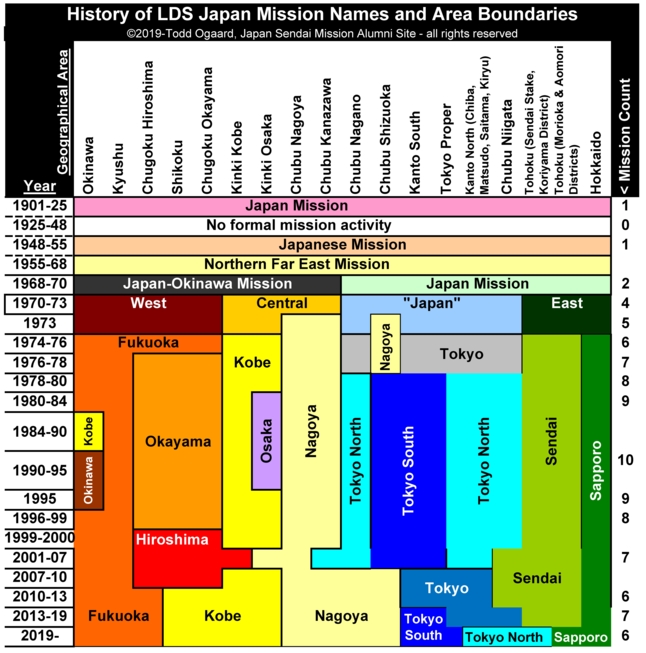 Sources: Church Almanac, Thesis: History of Japan Mission 1901-1924 Nichols, Murray, Riding on the Eagle's Wings: The Japanese Mission under American Occupation, 1948-52. Shinji Takagi, Ph.D., Thesis: History of LDS Church in Japan 1948-1980 Nelson, Terry G, 世紀を越えて末日聖徒イエス・キリスト教会100年のあゆみ, Sendai Mission Newsroom
---
Mission History Section Links: