Japan Sendai Mission 日本仙台伝道部
Teruya Jidai ('74-'77) 照屋時代帰還宣教師
RM Site-同窓会サイト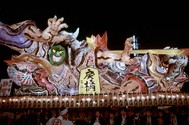 post-'77Senkyoushi-go宣教師語
Senkyoushigo (Missionaryspeak) post-1977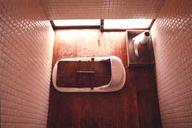 A quintessential SQUATTER-type BENNY, also called a DROPPER, and later a PLOPPER
(Akita Narayama house - 1974)
See explanation of Senkyoushigo and a separate list of terms used when the mission was first established in 1974 here.
Webmaster Note: The terms below have been culled from discussions with 1996-2011 missionaries on my visits back to Japan and suggestions via email from various RMs, some of whom agreed to have their names listed - Thanks to all who have contributed to these lists!
If your Sendai Mission jidai widely used some additional words, or you'd like to make clarifications, suggestions or give better examples of usage, please let me know via a 'Comments' entry.
Senkyoushigo used after 1977:
(Entries shaded in gray are reportedly no longer in use.)
TERM
Post-1977 Sendai Mission Definition
Examples of Usage
BEAN,

BEAN-CHAN
From the general world-wide missionary term, green-bean, meaning newly-arrived missionary. BEAN-CHAN adds the (J) suffix of endearment usually added to names of children or women.

Nantoka Chourou is a BEAN-CHAN
(the) BUCH
From (J) dendou buchou, mission president. Rhymes with hooch. (This usage disappeared after the September 2006 changes in Church Leader terminology, at which time the term 'dendou buchou' was replaced by 'dendoubu kaichou.' (See Mission History Section link, "What has Changed over the Years?" sub-link.)

I wonder what THE BUCH would say about this!
BORN,
BABY,

DAD,

SON,
FIRST CHILD,
ONLY CHILD,
BROTHER,

DOUKI
Missionary microlife, trainer and group relationship words:

JUST BORN, BABY: green bean, newly arrived missionary.

DAD: trainer, ones first senior companion whose specific assignment is to train.

SON, FIRST CHILD, ONLY CHILD, BROTHER: relationships to DAD/trainer.

DOUKI: (J) same class, same period. In the same MTC group; started mission at the same time
Hinkins was Casey's FIRST CHILD, and I'm Hinkin's BROTHER.

Shaw is my DOUKI.
DENDOU BABY
Spare tire around the mid-section, causing you to appear pregnant. Usually caused by large quantities of rice. Especially prevalent in winter.
My DENDOU BABY is growing!
GOCH'd
See GOCHISO'd on pre-1977 list.

Rhymes with coached.
That Q really GOCH'd us tonight.
GOK
From (J) gokurousama, thank you for your trouble (for doing your job). A person worthy of thanks. Rhymes with poke. Also (J) gokiburi, cock roach.
That guy at the Camera store is a real GOK.
JIN BEAN
Japanese green bean (newly arrived native missionary). (JIN from Nihonjin and BEAN from green bean)
JOINT
The term used for a member who is jointly sitting in and may be participating in a missionary lesson/discussion. When teaching females, a JOINT is required to be present if the missionaries are male.
Our JOINT cancelled on us 2 hours before the lesson
KIN JIN
From (J) kin, gold and jin, person. Golden investigator.
Our new Q is a real KIN JIN
KUN
Male equivalent of a TRIFF.
We hardly ever get KUNs at Eikaiwa.
PLOPPER
A non-flush, old fashioned Japanese-style toilet. See also SQUATTER and DROPPER on the pre-1977 list. According to John Gappmayer (92-94), only Tsuruoka's apartment had a PLOPPER in his day, and due to lack of use (elders were doing their duty at a hotel), eventually the elders moved.
Q
From (J) kyuudousha, investigator.
Our new Q is a real KIN JIN.
SACK
A lazy missionary. See also WAMP, WAMPSACK. This term was first brought to my attention in 2004.
That elder is the biggest SACK I have ever met.
SHINK,

TOK,

KYUUK
Shortened from (J) shinkansen, bullet train, (J) tokkyuu, super express train, and (J) kyuukou, express train. (Webmaster note: SHINK is still widely used, but reportedly TOK and KYUUK are not; kyuukou trains, common prior to the arrival of shinkansen to Touhoku in 1982, are now virtually non-existent)
I've never ridden a SHINK, have you?
SLAG
Male equivalent of a TRIFF, another word for a KUN.
STEVE,

STEVE-KUN,

STEVE-chan

STEVE-SAMA
Modern-day version of a missionary's best friend, the BIGOT (mailman). STEVE-KUN reportedly refers to mailmen on motorcycles, STEVE-CHAN depicts those who ride bicycles, STEVE-SAMAs have vans.
SPOKED
Anglicized from (J) suppokasu, to be stood up, to have a promise broken, used in reference to missionary appointments.
We got SPOKED!
WALLER,

FLYING WALLER,

WALLERKAI,

TENJOU WALLER,

KOKUBAN WALLER
A dogpile or the act of creating a dogpile, sometimes with participants swan-diving to land on the pile (FLYING WALLER). The victim was tackled and everyone would pile on. Ken White and I discovered the use of this term first-hand two years after our missions in 1978 while sleeping as unsuspecting walleree gaijin RM guests at the Hirosaki branch.

WALLER is unique in all of senkyoushigo in that I have discovered its actual origin. In July 1977, just after President Teruya was replaced by President Kwak, Shane Loertscher and Phil Hart were ZLs arriving late on a visit to the Hachinohe branch (Numadate building). Kevin Davis, the originator of WALLER, along with Glenn Mayhew, Brian Voigt, Dave Smith, and two unnamed green beans, performed a surprise sneak attack on the unwitting ZLs and the WALLER was born. Davis reports that in the original WALLER, the receiving party was pushed up against a wall and given a rigorous standing dogpile and smeared against the wallhence the name WALLER. It branched out into many variations...and brought joy to countless elders over the years.

TENJOU WALLER was a variation where an individual was lifted up and squished against the TENJOU (ceiling). KOKUBAN WALLER was a variation where you would write an individual's name on the KOKUBAN (black board), and erase it using the individual (usually with his rear end).

WALLER existed until at least the mid-1980s. Glen Pope (84-86) reports being in a meeting where Hachinohe's Kubota Kyoudai (then serving as district president) got up and told the missionaries in English, Don't do the WALLER! A recent RM (02-04) suggests that around the time of the Niigata annexation, WALLER made a comeback when a mix of Sendai missionaries were ready to play jokes on Tokyo North missionaries. It later spread to other parts of the mission, but has since died out.
WALLER!!!!!!!!!!!!! was the war cry for the attack to begin.



Arnold Stonebrink (82-83) suggested the following sentence: After we finished DENDOUing, we had a WALLERKAI in the apartment.
WAMP

WAMPSACK
From (J) wampaku, naughty, mischievous. This term has been around since at least the mid-1990s, but reportedly by 2004 had morphed into the front half of WAMPSACK, and therefore the meaning had changed to refer to a lazy missionary. The sack is most probably from (E) sack, as in lazy sack of @#%.
That kid is a such a WAMP!
WHITEWASH IN,

WHITEWASH OUT

FLUSH IN
The phenomenon of being transferred in or out of an area without any continuity; all missionaries that are the subject of the conversation (usually a companion set, which nowadays usually means all missionaries in the area) are leaving without a trace (OUT) or are being shipped IN without one of the set already being there first and having knowledge of the area and investigators. Reported in May 2004 by Elders Hansen and Takogawa, who were being whitewashed out of Hirosaki the day after I treated them to lunch. In November 2004, Hinkins and Shaw told me of FLUSH IN, which they said means transferred in to a previously closed area (to reopen the area.)
My companion and I are getting WHITEWASHED OUT tomorrow; Naninani chourou and Nantoka chourou are getting WHITEWASHED IN.
YOGENKAI
From (J) yogen, prophecy, and (J) -kai, suffix for meeting. The speculative get-together the night before expected transfers where predictions, suppositions, and implications were charted out. Suggested by Stu McHardy (79-81). Thought to be extinct for a time, YOGENKAI has reportedly has recently (2003) re-emerged and so has the accompanying controversy as to its use; elders spending a lot of time speculating and the inevitable results of disappointment and shattered self-esteem when the speculated advancements or transfers don't come to pass.
---
---
Mission History Section Links: