Japan Sendai Mission 日本仙台伝道部
Teruya Jidai ('74-'77) 照屋時代帰還宣教師
RM Site-同窓会サイト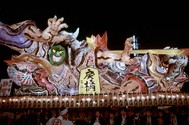 Aomori-ken Locations
---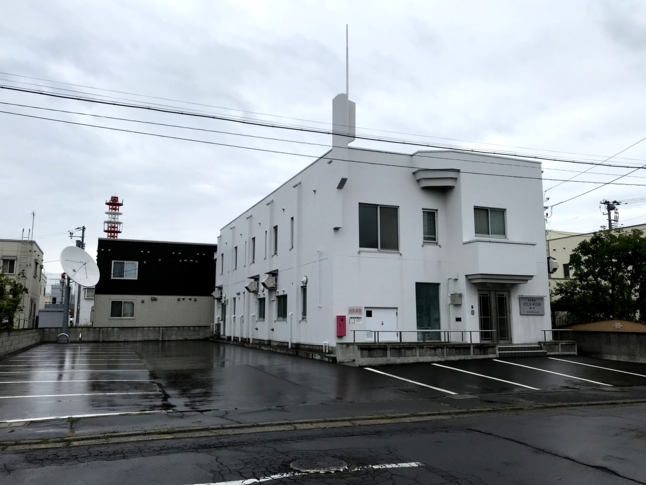 This northernmost branch meetinghouse is about 20-minutes walk from the Aomori eki (map), (street view) at Nagashima 4-22-23 and was completed in 1984. An elevator was added later, and in 2018, the branch celebrated 50 years since its founding in 1968.

(Picture taken 2019.)
Aomori is an important port city because of its proximity to Hakodate, the southern port city of Hokkaidou. The Seikan Tunnel now joins Aomori and Hakodate with a rail line, replacing the renraku sen ferries that once linked those cities. The tunnel, when it opened in 1988, was the world's longest railway tunnel at 53.85 kilometers. Construction on the Touhoku Shinkansen extension from Hachinohe to Shin-Aomori (~4km south of Aomori) was completed in 2010, and was completed past Shin-Aomori through the tunnel to the Hakodate area on Hokkaidou in March 2016. Aomori is famous among missionaries for its snow, which in heavy snow years can cover the first floor of buildings. Aomori ringo (apples) are also famous (and large).
---
Historic Aomori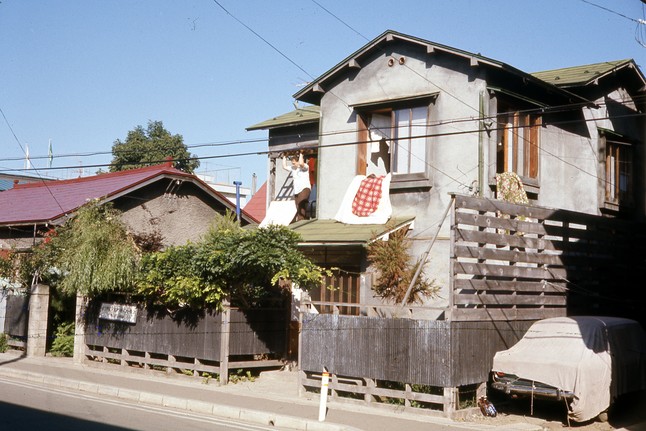 August 1974 photo of the house that comprised Aomori's combined meetinghouse/elder's quarters. (photo courtesy: John Ericson) John says Elder Lefler is visible practicing the familiar futon drying/sun disinfecting activity. I'm hoping to get the address of this location-if you can assist, yoroshiku.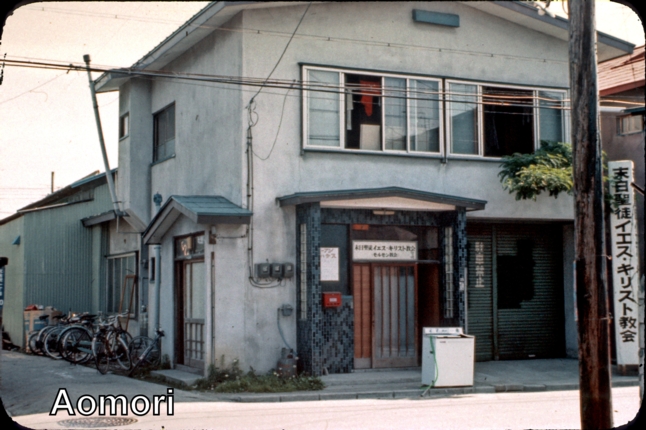 Kitakanazawa 1-5-15 (map) (street view) was used as the combined elders quarters and meetinghouse location for about ten years until the built building was completed in 1984. This building still exists but has been remodeled and appears shuttered. Another missionary apartment existed in 'Aomori East.'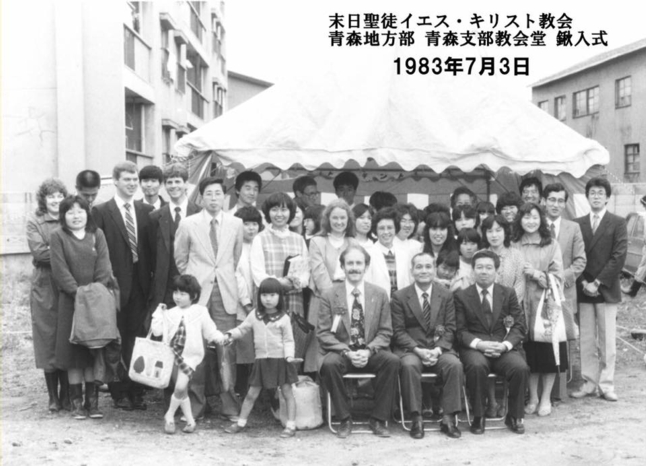 Groundbreaking ceremony picture for the current Nagashima building. At the time, our own (moustached) Ken White (and wife Lynda) were teaching English in Aomori and Ken was also serving as branch president. Seated to his left is mission president Shimabukuro and Kubota Koji from Hachinohe, who was district president at the time.
---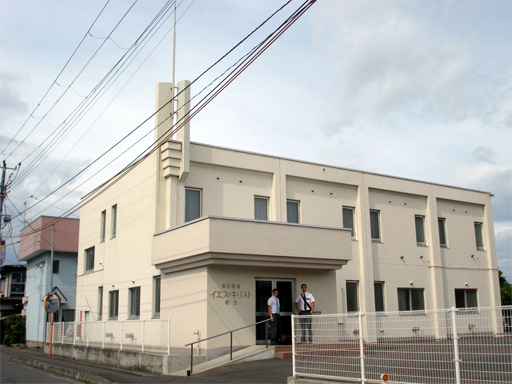 Hachinohe has had missionaries since 1968. Hachinohe's meetinghouse is located only one block from the Hon-Hachinohe (mid-city) eki (station) (map) (street view) and was dedicated 10 June 1984. This floor plan is fairly common in other areas of Japan, with the chapel on the second floor along with some classrooms, and a kitchen and more classrooms on the ground floor. Hachinohe is a port and industrial city of about 250,000. The branch celebrated their 40th year in 2008 and their 50th anniversary in 2018 - here are articles and pictures.
---
Historic Hachinohe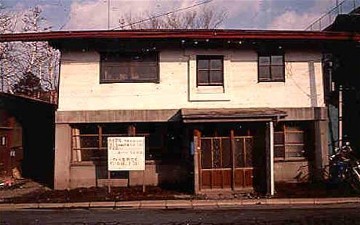 Hachinohe shibu at Kamikazushi-chou 5 (map), right off of the start of the main downtown drag at Aramachi--was the second meetinghouse established in Hachinohe, and was used in the 1970s trough April 1975. This building had unusually thick walls (>1 ft. thick). This building no longer exists.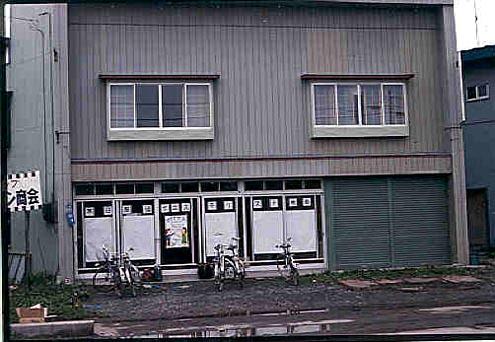 This combination meetinghouse/missionary quarters was at Numadate 1-2-20 (map), near then-Branch President Kubota Kyoudai's house, and only a few blocks north towards the pier from the built building location above. Elders quarters and branch president's office were located upstairs. Soon after we moved here in April 1975, this became a 6-man branch. Our first meeting here was 04 May 1975. Notice the fine fleet of morau'd bicycles poised in front of our home. This building no longer exists.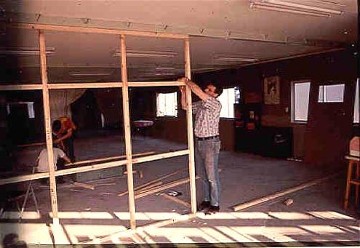 Okay, so it didn't look so hot from the front, but we fixed it up pretty nicely on the inside--Rex Nelson showed us all that carpentry skill!! Go-kurousama! This was a wall to make the chapel a separate room.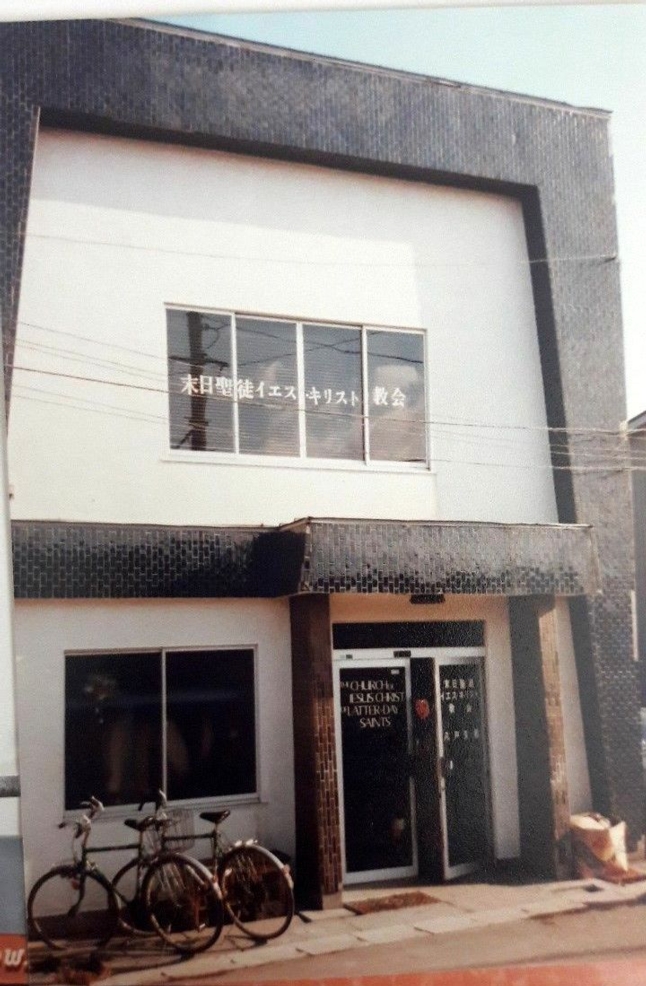 This Hachinohe meetinghouse, located at Kashiwazaki 3-5-10, (
map
) (
street view
) was used in the early 1980s until the 'built building' in Shiroshita was completed in 1984. This building appears in Google street view to still exist, but has been remodeled.
---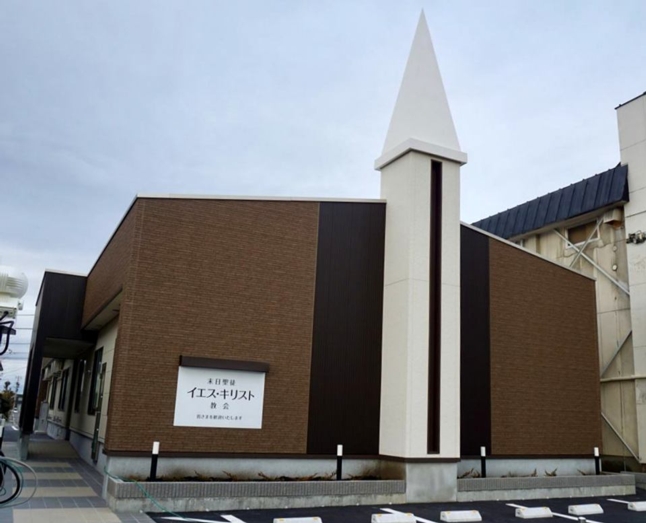 The mission's newest meetinghouse at Hirosaki (map) (street view) located at Jōtōchūō 3-2-10, about a 10-minute walk east behind the eki. It was completed on schedule in less than six months, with the first Sunday meetings held on 01 Jan 2017 and dedication on 30 Apr 2017. A converted storefront building that was used as the previous meetinghouse since 1991 was bulldozed to make way for the new chapel. This is one of the smallest church-built buildings in the mission, but it is surely a joy and a blessing for the faithful members there and for missionaries who served in Hirosaki. Hirosaki is famous for its large park and castle grounds and sakura matsuri (cherry blossom festival) held there every year in late April. Aomori-ken is famous for its delicious apples; many orchards can be found in the area between Hirosaki and the city of Aomori.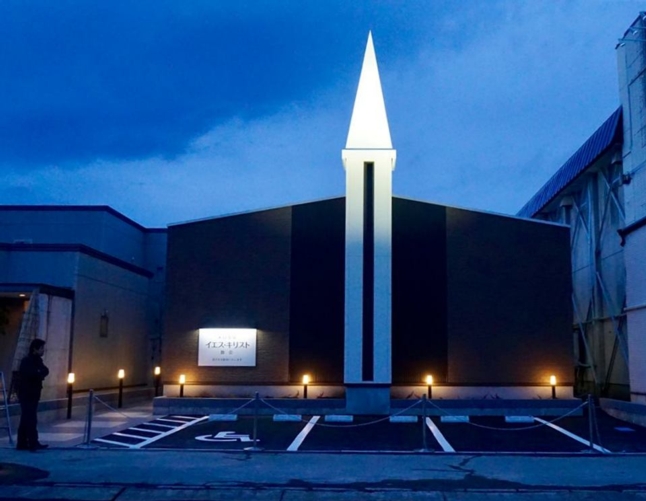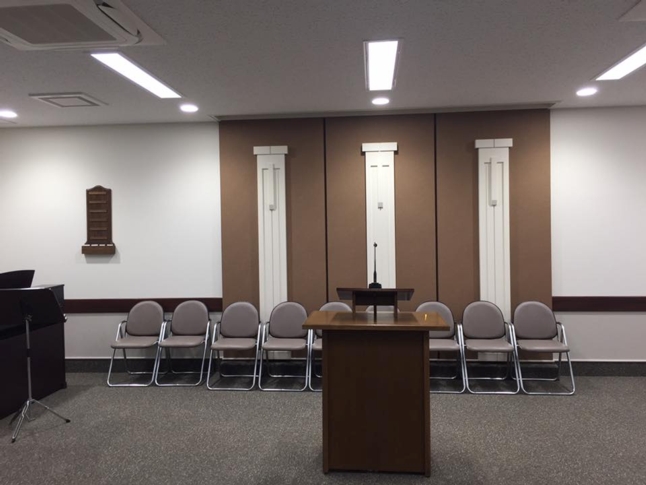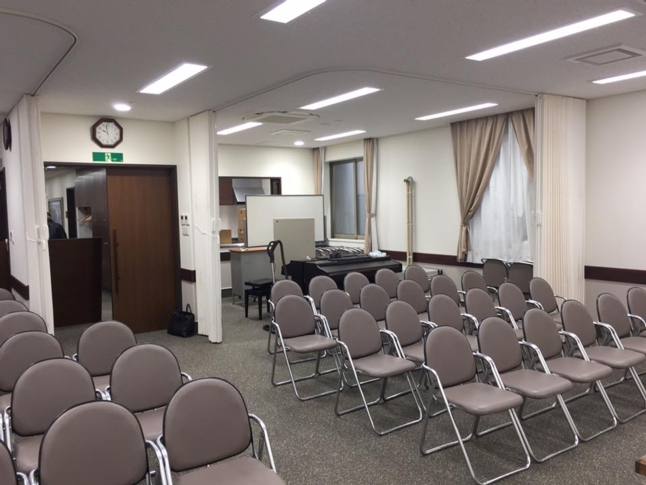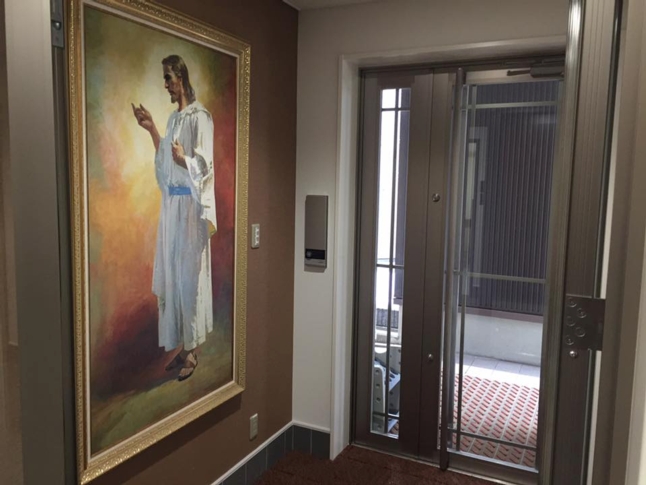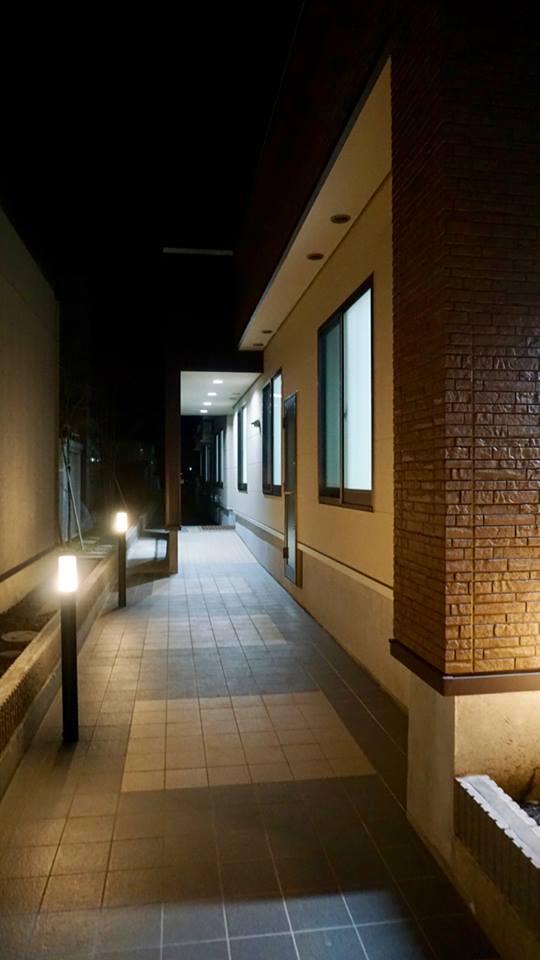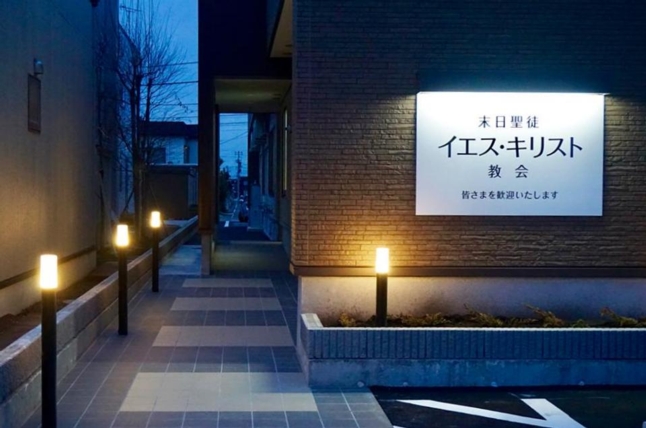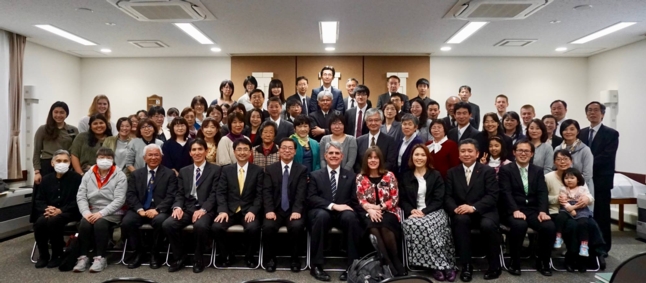 This commemorative picture was taken 30 Apr 2017 in conjuction the new Hirosaki meetinghouse dedication, which was done by Elder Otahara, Area Seventy. President Jeffrey Smith and Sister Karen Smith, then presiding over the Sendai Mission, are in the center.
---
Historic Hirosaki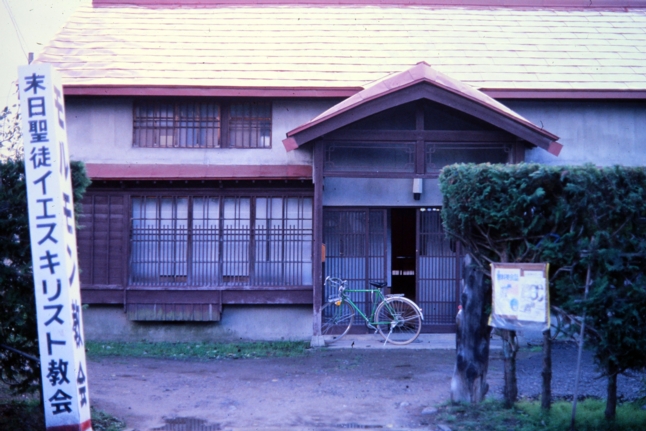 Hirosaki's first combination meetinghouse / missionary quarters was located at Wakato Cho 24-1, not far from Hirosaki Castle grounds, and was used from 1970 through 1986. Photo courtesy of Stuart McHardy (78-80), who noted it was known among missionaries as the 'samurai house.' The samurai house is no longer standing.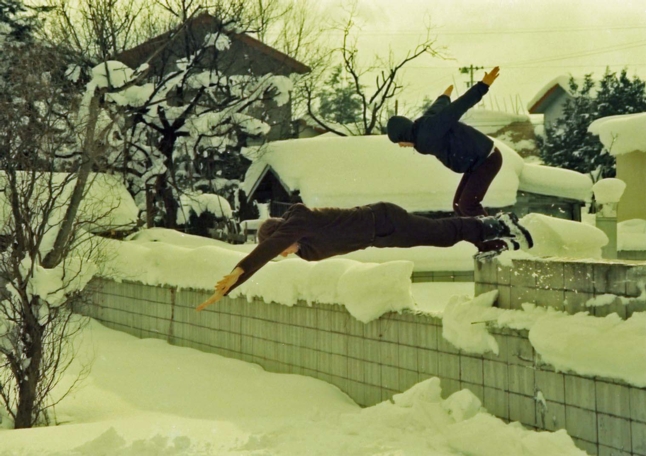 Many generations of missionaries played in the deep snow in the back yard. President Teruya also told the story of hiring goats to eat the tall grass that grew there in the summers.
From Feb 1986 to September 1991, Hirosaki's meetinghouse was located near Hirosaki University at Miyuki Cho 6-2. If anyone has a picture of this building that we can include here, please 'Contact Us.'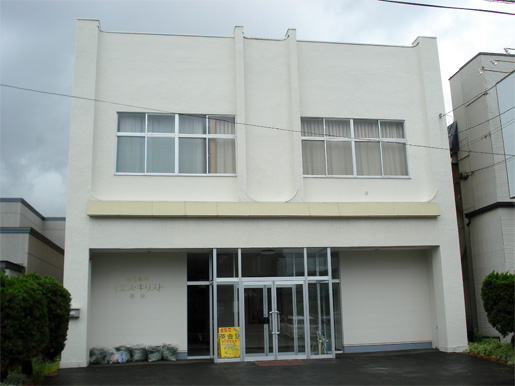 This
was the meetinghouse used from 1991 to 2016. It was demolished to make way for the new church-built building described above. Apparently the church bought the property early on; when I first visited here in 1996, the building still had store-front shutters. The glass entrance and logo were added some time in the 2000s.
---
Misawa didn't have a separate meetinghouse back in the 1970s, but missionaries apparently started living there in the 1980s. Misawa's church building is highly visible, directly across the street from the

omote

(main/front) entrance of the

eki

(map) (street view).

The meetinghouse also serves a branch from the nearby US Air Base, for which

Misawa

is famous. The building was finished in 1986 and a remodeling / expansion was completed in 2008 to accommodate the large English-speaking branch from the base.
The missionary apartment in Misawa was temporarily closed in 2009 due to low missionary numbers. By 2012, Misawa was served by two missionaries commuting from Hachinohe, and by 2014, Misawa's missionary apartment was reopened. Both of these pictures are courtesy of the late Brother Murakami of Aomori. The one below shows the expansion of the building and the proximity to the eki (meetinghouse marked with red asterisk).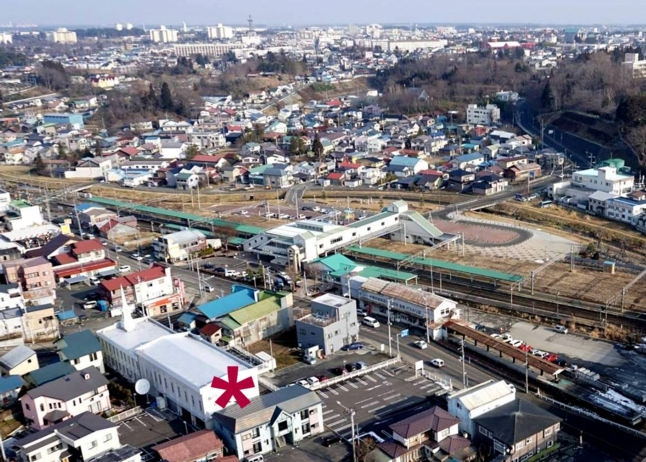 ---
Towada
Towada (population 63,000 (map)) is

located

about 25 minutes from Misawa or about 40 minutes from Hachinohe by car. Towada had missionaries starting in 1979 (see historic section below). We're unsure when the branch was closed or when missionaries were moved out (1989?) but we assume that after the branch closed, members who lived in Towada attended church in Misawa.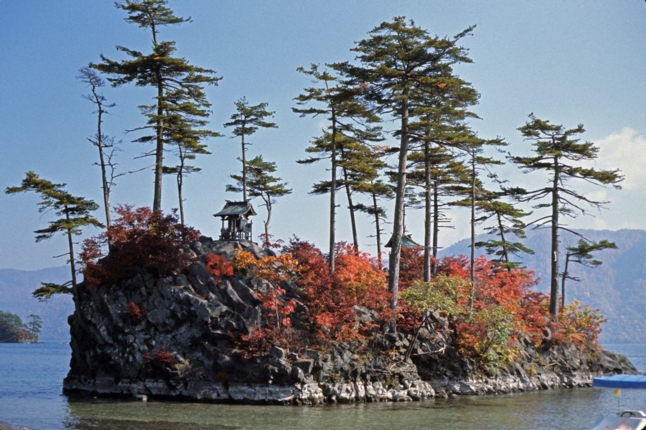 The Towada area is famous for Towada-ko (Lake Towada), the largest crater lake in Japan, and Oirase river, which are popular tourist destinations. Until 2012, a private railway linked Misawa and the city of Towada. (Admin Note: When I served in Hachinohe in 1975, we traveled this way to look up referrals in Towada.)
In October 2017, President Sekiguchi announced Towada would be reopened and two missionaries would be assigned to live there, but I learned that by the time the mission split July 1, 2019, the branch was closed (again).
Historic Towada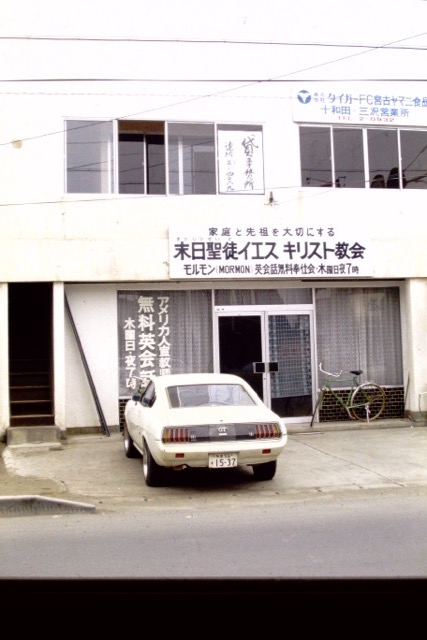 Towada's first meetinghouse (Inaoi Cho 3-4) (street view, embedded map) and history, courtesy Stuart McHardy (79-81): "The city was opened for missionaries in 1979. By the time I arrived in May 1980, there were 3 members, all young singles. We were also covering Misawa at that time - all four elders would ride our bikes over to Misawa (14km) on Thursdays as a district and would tract through the day, and meet at a local supermarket at a soba counter for dinner. We would continue to tract into the evening and ride home in the dark (checking each other and picking the mosquitoes out of our teeth). The local densha (the Green Worm) provided alternate transportation opportunities, as needed, though we were on foot once arriving at the Misawa eki, with a steady uphill hike to get to the base or town proper. We knew of no Japanese members living in Misawa or converts from Misawa into late 1980. We had four (4) baptisms that summer, the first two of which were performed in the Oirase River."
---