Japan Sendai Mission - 日本仙台伝道部
Teruya Jidai(74-77)照屋時代
Official RM Site-同窓生サイト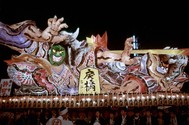 Akita-ken Locations
---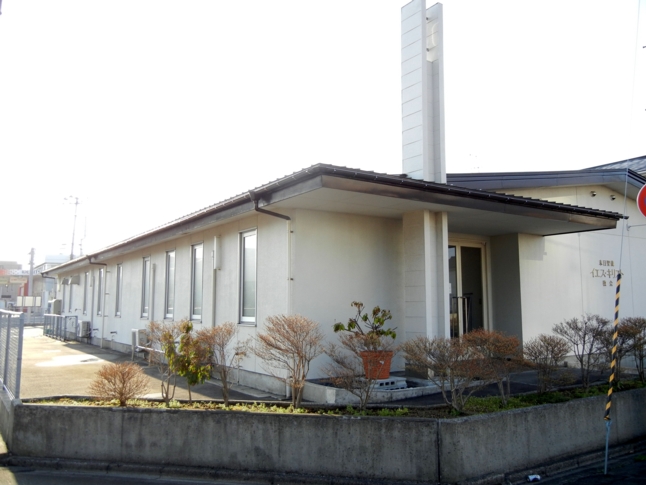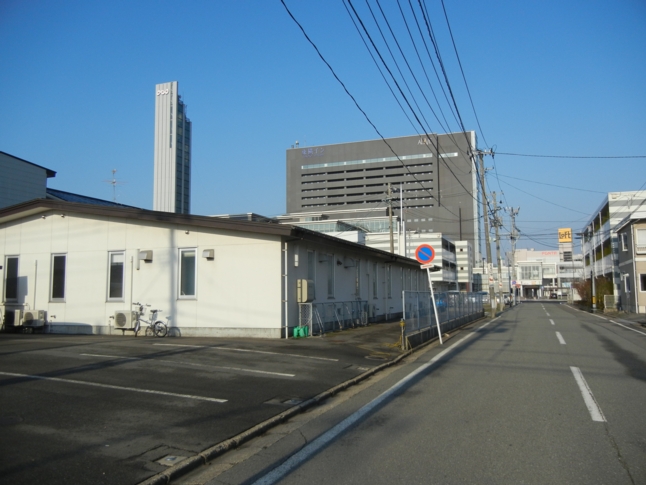 Missionaries first arrived to live in Akita in June 1969, during the days of the 'Japan Mission,' five years before the Sendai Mission was formed in 1974.
A
dmin note: Akita branch will be commemorating 50 years on Saturday 14 Sep 2019; t
hey are asking for historical photos, memories, significant journal entries regarding the branch history and progress. Anyone is invited to contribute. 'Contact Us' if you have anything to contribute; I'll forward to the folks in charge
.
RMs who served there are invited to join in the celebration! (I am going!)
Akita's church is located at

Higashidōri Nakamachi 2-31

(map) (street view),

just one block east of, and is visible from, the east exit of the

eki

(station) that was remodeled for the arrival of the

Shinkansen

in 1997

. (In the picture at left, the eki is visible at right where yellow loft sign is).

This building, dedicated in August 1990, is fairly small, and appears similar in size and design to the building in

Iwaki

.

Akita

has a population of around 350,000 people and is legendary throughout Japan for its Akita

Bijin (

beautiful women).
---
Historic Akita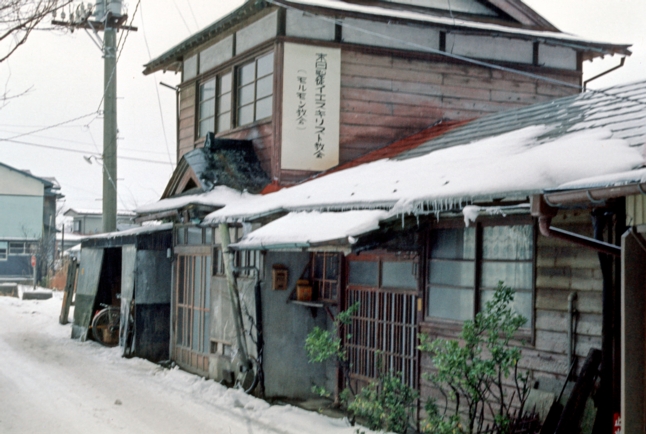 This large house served as the first combined meetinghouse and missionary quarters in Akita starting in November 1969, five months after the first missionaries, Kent Burton and Kirk Baggaley arrived. Prior to that date, meetings were held at a rented 'kaikan' in the central business district and elders lived in a small apartment. Five years later, by December 1974, six missionaries lived here
but meetings were once again being held in a rented building downtown (see below). While probably one of the oldest, draftiest buildings in the mission, it had the best
sekiyu
stove. Seeing your breath in the morning before the stove was lit made getting out of your toasty
futon
warmed by an electric blanket even harder. Adding to the charm of this place, a small cemetery was located directly across the street. This building stood until at least 1999 when I found it during a meetinghouse picture-taking trip. By 2011 it had been torn down - street view. The original address was Narayama Tatenokoshi 55-1, but with municipal changes over the years, its address is now Higashi dōri tatenokoshi 4-39, Akita, Japan 010-0006. By 1976, missionaries had moved to a different house.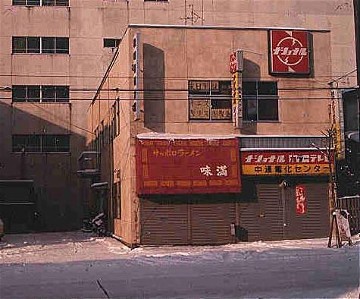 1970s Downtown Akita Meetinghouse at Nakadōri 6-7-15. The front half of the second floor of this downtown building is where Akita church meetings were held in the 1970s. The building was called the
Shougikaikan
, and the Japanese chess-like game of
Shougi
was played in rooms in the back. Elders housed in Tsuchizaki ( a suburb north of Akita) also attended meetings here.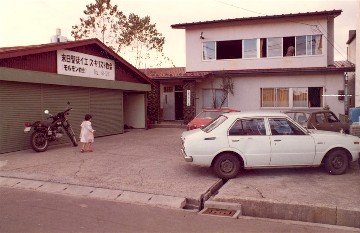 This picture, contributed by RM Chris Barnes, shows the combined Akita meetinghouse/elder's quarters in Akita in 1980. If anyone has the address and/or other meetinghouse pictures/location information for the 1980s, please Contact Us.
---
Noshiro
In August 2018, mission president Sekiguchi posted in his Mission Newsroom that two missionaries had been assigned to open Noshiro to missionary service. Noshiro is a fishing and agricultural town located about 1 hour north of Akita by local train and about 30 minutes south of Odate. It has a population of about 50,000. Here's a copy/paste of his post:
秋田県能代市に初めて宣教師が赴任しました!
能代市は秋田県の北部に位置し、日本海に面した地域です。これまで末日聖徒イエス・キリスト教会の宣教師が赴任して伝道活動をしたことはありません。
この新しいエリアに召された宣教師は、ユタ州ノースオグデン出身のHall長老と沖縄県出身の宮城長老です。二人は、イエス・キリストの福音を分かりやすく教えることにおいて、大変優れた宣教師です。
すでに7月18日に到着し、能代市での伝道活動を開始しています。
Google translation (enhanced by Admin):
The first missionaries have been newly assigned to Noshiro city, Akita prefecture!
Noshiro is located in the northern part of Akita Prefecture, facing the Sea of Japan. There have never been missionaries assigned there for missionary work of the Church of Jesus Christ of Latter-day Saints. Missionaries called to this new area are Elder Hall from North Ogden, Utah and Elder Miyagi from Okinawa Prefecture. They are very good missionaries in teaching the gospel of Jesus Christ in an easy-to-understand manner. They arrived on July 18th and have commenced missionary work in Noshiro.
---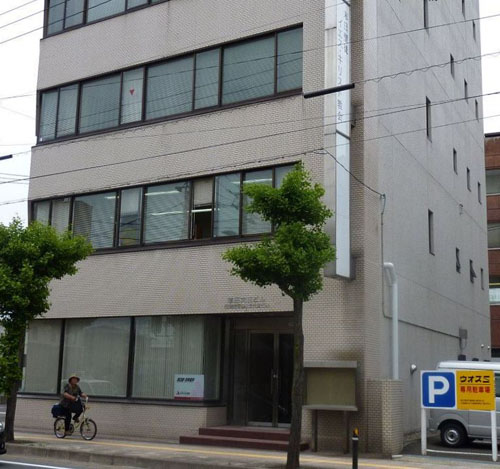 A branch has been located in Odate since September 1974. Odate is one of the most remote cities in the mission, and as such, retains the charm, look and feel of an older, less modern Japan.
In June 2012, Odate branch moved to the second floor of this building near the Odate City Office and main post office at Keijo 1 (map)(street view). Note the large sign on the side of the building that designates the name of the Church. Thanks to Sister Rieko Kazumoto Domon for the above picture.
---
Historic Odate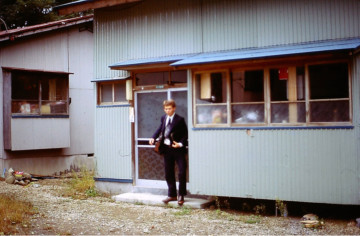 This house at 13-19 Izumi-cho served as Odate's first meetinghouse and missionary quarters when Dave Wakefield and John Mason opened Odate to missionary work on 27 September 1974. This picture in front of the building is of Wakefield Choro, who was only in Odate about two weeks; his mission ended 10 October 1974 when Taniuchi Yoshihiko transferred in and three weeks later Tim Branham and Leonard Langford transferred in to make Odate a four-man branch. Odate's first baptism after the branch opened was Tsubakida Ryoko, who was baptized 25 November 1974. Thanks to John Mason for sharing this valuable historical information and pictures as well.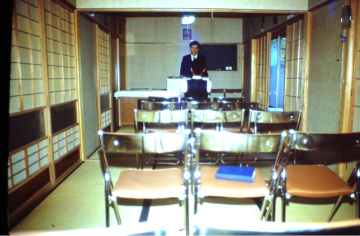 One of the first sacrament meetings held in Odate, October 1974. John Mason and Taniuchi Yoshihiko were the only attendees. Photo courtesy: John Mason
By the end of 1976, Odate's meetinghouse was relocated to Tokiwagi-cho 23-4.
Odate's meetinghouse in 2000 was very close to the eki (station). The door on the left-hand side of the lower floor was the entrance.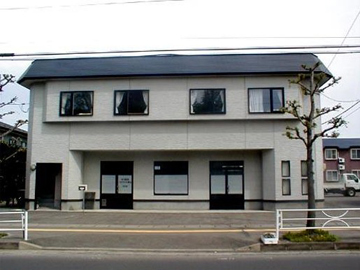 Ariura
4-9-32 (2001 through Jun 2012)
In this rented meetinghouse located near
Higashi Chuu
(East Middle School), meetings were held on the first floor and a family lived upstairs.
---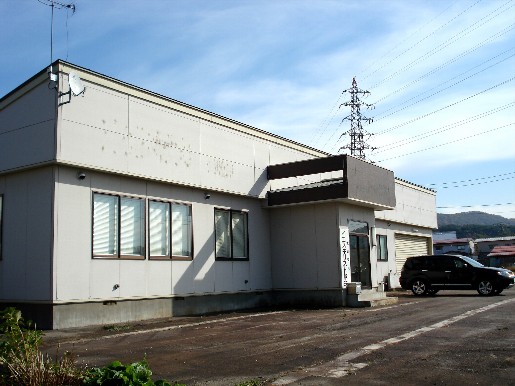 Yokote (map) (street view)

was opened to missionary work in 1986, according to RM Shaun Ellsworth

. Yokote is located in the mountains east of Akita, and is known for very snowy winters and its yuki matsuri

(snow festival). This meetinghouse, located at

Yachikishi

22. has been used since 2004. The building was formerly a

Tohoku Denryoku

(Tohoku electric power) office. It is located right across from a rice field, about 10 minutes walk south of the train station.





The Yokote missionary apartment was closed for a few years (2009-2012) due to low incoming missionary numbers.
---
Historic Yokote
Here's the Yokote meetinghouse in 2000.
---